This is Part II in our series of beer and breweries in and around Las Vegas. Be sure to check out Part I here:
---
Once you have exhausted Henderson's breweries and beer pubs to your heart's content and want to explore beer in and around Las Vegas, here are a few options.
World of Beer: As you leave Henderson, your first stop should be World of Beer, located in the Galleria Mall at Stephanie and Sunset about one mile from the Eastgate booze district.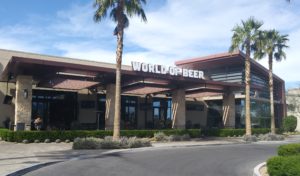 While technically still in Henderson, World of Beer is a worthy stop for an early lunch while you are headed to Vegas proper. World of Beer is a chain restaurant, but they offer around 50 taps, even more bottles and cans (with a definite focus on Vegas/local beer), plus a daily beer-infusion beer special. [Check out the infuser tower right on the bar]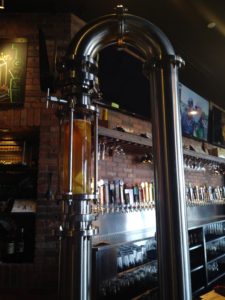 Pub365: I've written about Pub365 previously and they continue to offer a solid beer drinking experience in a somewhat unexpected place: Tuscany Resort.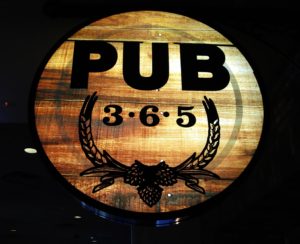 Pub365 offers 40-ish taps along with several hundred bottle options, some special and rare. The surroundings don't quite measure up to "British pub" level décor, but they serve decent pub-grub (the plain fries are simple and amazing) and the open space, low lights and diversity of bottle choices create a decent off-Strip beer drinking environment.
Tenaya Creek Brewery: North of the Strip, downtown Las Vegas offers several brewery options and Tenaya is the best of the bunch.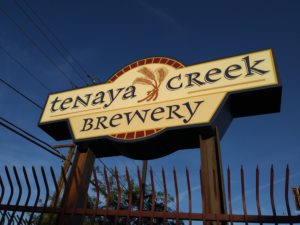 Tucked almost directly underneath the I-15 freeway, Tenaya Creek is less than a mile from Main Street Station in downtown Vegas. But, don't try to walk here. The neighborhood is kind of sketch. The brewery is surrounded by 8-foot wrought iron fencing if that tells you anything. But the beer here is among the best in the Vegas scene.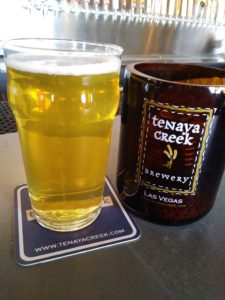 "El Charro" Mexican Lager, "Hop Ride IPA," and the German Pilsner are all dynamite (I scored them all 4.0 on Untapped—which is no small feat). I was less enamored by the cleverly-named "Hauling Oats" Oatmeal Stout and "Bonanza Brown Ale" but these are still far and away better than most beers you'll encounter in Sin City. The taproom is open and airy, affording lots of opportunity to gather, sip, and linger. Take note of the hop vines growing out front.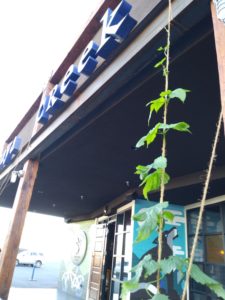 Banger Brewing. Quite the opposite of Tenaya is Banger Brewing, a brewhouse and taproom under Slotzilla on Fremont Street. Gauging by the throngs of people who inhabit the taproom on any given night, Banger Brewing has their fans. However, I have never had a beer here I liked. Their "El Hefe" jalapeno hefe is likely their most popular brew, but across the board, their beer has never quite resonated with me. On Untappd, I rated their 'Perfect 10 Pale Ale" a 1.25. Sorry…skip the downtown crowds; there's better beer elsewhere.
Hop Nuts. The Las Vegas Arts District is about ½ mile south of downtown and is really starting to flourish as a hang-out destination.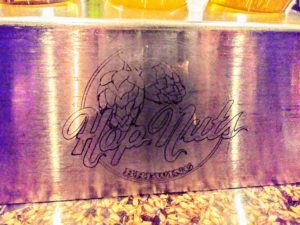 Hop Nuts, on Main Street one block south of Charleston, offers several quality beers in a low-key quasi industrial space. Of note is the "Green Mamba"—a 100+ IBU Imperial IPA. Having tasted it, I can tell you it is all burn.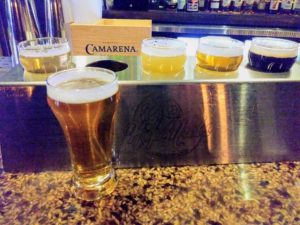 Other, more palatable beers include the Blonde Ale and "Harry Porter." Hop Nuts, along with the nearby Velveteen Rabbit and Three Sheets beer bar, make for a nice evening's crawl in the Arts District.
Aces and Ales, Tenaya. The 'holy grail'/must visit pilgrimage every beer lover in Vegas should undertake is to Aces and Ales/Tenaya.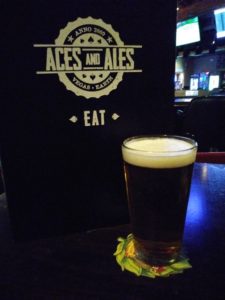 Newer and larger than their Nellis location, Aces Tenaya offers 50 rotating taps as well as a rare bottle list. Want to spend $250 on a Sam Adams Utopia? You can do that here. Consult their website for ample weekly food and drink specials. Future note: Aces is planning a third location, in the southern region of Vegas.
Lodging: Main Street Station. As I noted in the first half of this Vegas road trip guide, you should avoid staying at the big strip hotels. Beer and food are overpriced on the strip and there's a good chance you'll end up pay a "CNF"—i.e., a charge for nothing—if you wander into a beer bar on the strip. So, stay close to the breweries.
When downtown, consider Main Street Station on the northwest edge of downtown. They are not the fanciest hotel downtown, but the rooms are well-maintained, the San Francisco décor is cool, and they have a brewery (Triple 7) on site. Triple 7 does double duty as a restaurant and sushi bar.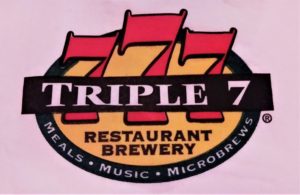 Main Street Station is close to Tenaya Creek, Banger Brewing, Hop Nuts and other drinkeries close to downtown. Banger is a few blocks walk from Main Street, but distance and safety dictate that you don't walk to the others. Play it safe—get an Uber.
Prost!