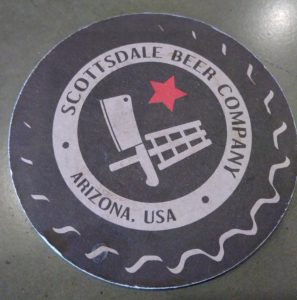 The city of Scottsdale has a problem. It's called "Shea Boulevard at the freeway."
Anyone who traverses this intersection from 2pm to roughly 7pm weekdays (and even on weekends) knows what I'm talking about—the traffic.
It is downright unbearable.
To the east of the 101 freeway sits Shea Medical Center, otherwise known as "a hospital." Surrounding it are the requisite medical plazas that serve said hospital. Personally, I'm well acquainted with the area as my kids' Orthodontist is in the area as well as my current ENT/Allergist. I'm in the neighborhood at least twice a month. For anyone with more medical issues than my family…God bless you. You know what I mean. The 2pm and 3pm hours are especially horrendous for traffic, as many moms (and some dads) have taken their kids out of school early for a late afternoon appointment at the _________'s (fill in the blank) office.
Also to the east is Portillos, the Chicago hot dog chain that set up shop in Scottsdale, as well as a dozen other chain eateries. With so many people visiting the hospital annually, you gotta eat somewhere, right? Further east, Shea is the only means to reach the Mayo Clinic and Fountain Hills—unless you want to take a detour through Mesa—so the traffic is…ugh.
To the west of the freeway and north of Shea is the Pima Crossing shopping center. Some may confuse this plaza with its neighbor to the north—Northsight—the much bigger and much more confusing shopping center, but Pima Crossing offers its own grandiose sense of scale (with a PGA Superstore anchoring the center) and with the hustle surrounding the intersection, it becomes just another reason to invite traffic and dread a weekday trip to the area.
Scottsdale Beer Company helps mitigate this dread.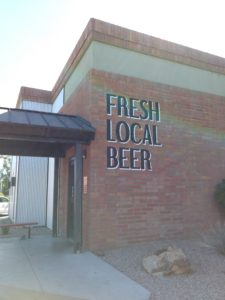 Tucked away somewhat inconspicuously in Pima Crossing, Scottsdale Beer Company offers a respite from the insanity happening nary 100 yards away. You might miss it…it is within Pima Crossing, but it doesn't face the street. It shares a building with Pier One Imports, but you must enter the plaza and navigate around the much more prominent Chili's to find it. A sign, spelling out "Scottsdale Beer Company" hangs over their patio, but it is really only visible if you are heading west on Shea. Heading east to the hospital (or your doctor's office)? You have to look over your shoulder to see it.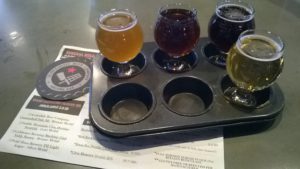 For beer aficionados, it is worth seeking out, especially if you don't have kids in tow. SBC brews 10 – 12 styles regularly and features a variety of local and national guest taps. It is a really diverse collection. Their own "Cannonball" Pale Ale was an award winner at the 2017 Great American Beer Festival. During Arizona Beer Week, they featured a flight that included all four Arizona GABF winning beers. So, their beer program seem pretty plugged into the Arizona scene. Their guest taps often include Arizona beers. I recently was able to taste the McFate/La Cumbre collaboration "Hanging Cooper" at SBC, which I really enjoyed.

It also seems that they don't try to cover a style simply to have their taps covered. Rather, they really tweak and experiment with the styles, producing terrific results. The aforementioned Cannonball is a terrific take on a Pale Ale (little more balanced than most) and their "Texas Tea" Chocolate Imperial Stout is a rich, decadent late evening/late meal finisher.
With the somewhat challenging location (less than ideal sight lines, minimal foot traffic) you might think SBC would be doing more to draw people in—more advertising, more public relations campaigns, etc. In a way, they are doing just that…they are producing good beer. That's a pretty good calling card.
What to Expect
SBC has bought into the 'industrial' look 100%. Chairs and barstools feature metal frames; corrugated sheet metal is featured throughout the restaurant and in the restrooms (at least, in the men's room!); there is no drop ceiling, which exposes the wooden trusses. Upon entering, you find a large, dark, somewhat cavernous room with a bar at the center. Bar tap handles seem self-carved, made of wood, adding to the rustic industrial vibe.
The U-shaped bar seats perhaps 20 – 25 patrons. Standard tables surround the bar and spread to a patio which faces Shea. The brewery operation occupies a space at the back of the restaurant. Large windows open to the dining area so you can gaze upon the mash tuns and fermentation tanks doing their thing.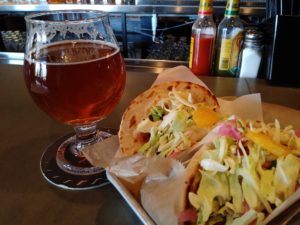 SBC features pretty standard pub grub, with burgers, sandwiches and a few salads populating the menu. My last two visits, I had the pork tacos (listed under "Shareables") each time and they are dynamite. I can't hardly imagine eating anything else.
Recent Visits by Arizona Beer Traveler
February 2018
March 2018
May 2018
8608 E. Shea Blvd.
Scottsdale, AZ
***
UPDATE: April 2019
The Chili's Restaurant that "hides" SBC from the street is undergoing renovations...serious renovations. As in...it is not there anymore. While it helps solve SBC's visibility problems, it makes for a lousy view from SBC's patio.