Nevada, like Arizona, doesn't have a great national beer reputation. In Beer Connoisseur's ranking of the best "beer states," Nevada comes in at #27, right behind Arizona. I happen to believe both rankings are—to put it mildly—in error, for both Arizona and Nevada have growing, vibrant beer scenes.
Although this site is most properly dedicated to Arizona beer, the road sometimes takes you a little farther. Las Vegas' proximity to Arizona makes it a great candidate for a weekend getaway/road trip. So, to prepare you for the beer road trip you know you will eventually take, here's a rundown of what's what in the Las Vegas beer scene. Consider this me doing your homework. You're welcome.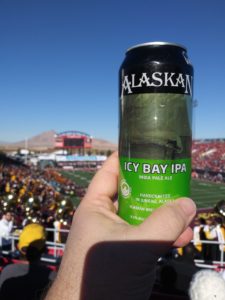 Getting There
If you drive to Vegas, you will likely traverse through Kingman. Kingman offers a few places to hunker down for a brew before hitting Sin City.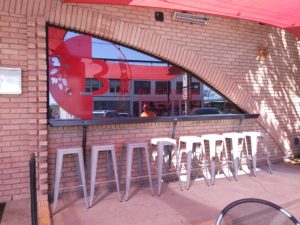 Black Bridge is a micro-brewery on Beale Street about two miles from the AZ93/I-40 turnoff that takes you north to Vegas. It offers a large selection of carefully crafted high ABV beers (their "Poison" series reaches as high as 14.2%) as well as a few lower ABV beers and house blends.
About two blocks to the west of Black Bridge is Rickety Cricket.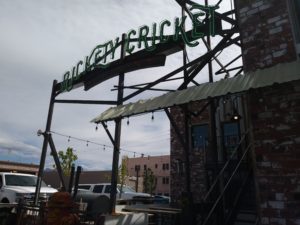 Rickety Cricket is a small chain of full-service brew pubs with additional outposts in Prescott and Flagstaff. The Kingman version, adjacent to House of Hops and the Kingman Club on Beale Street, features an amazing selection of beers (upwards of 40+ on tap when I last visited in April 2019), about half of which were house brews.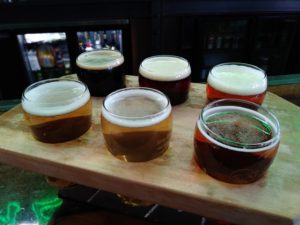 The temptation here is to over-indulge. Don't do that…you still have to drive an hour to Vegas. Limit yourself to a flight or get a growler fill or six-pack to go.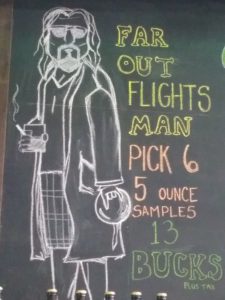 If you take the scenic route to Vegas, Laughlin features a brewery in the form of Pints, a microbrewery in the Colorado Belle Riverboat/hotel/casino.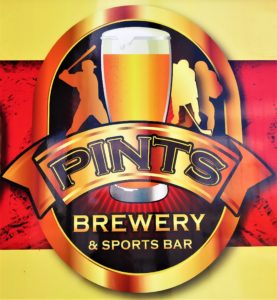 From the parking lot, the entrance is to the right, just behind the paddle-wheel. While the beer list here is small, the attraction here is you are sitting in the middle of the brewery itself, with fermenters and mash tuns behind the bar and tubing running overhead. The effect is like having a pint in the engine room of the paddle-boat (without all the steam and sweat).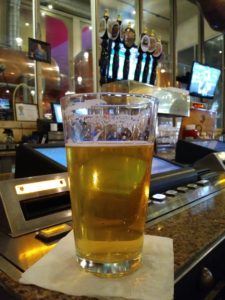 Henderson
Henderson is the first city you come to when you drive from Phoenix to Vegas along AZ93/I-11. If you fly in, it occupies the southeastern portion of the Vegas valley. Most importantly, it is the current epicenter of Vegas beer. No less than half a dozen breweries call Henderson home. Not all breweries have taprooms (Joseph James and Able Baker do not, for example), but those that do afford the beer traveler lots of options.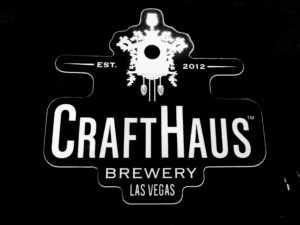 CraftHaus Brewing: CraftHaus is one of the major players in Las Vegas beer. Their taproom is in the "booze district" of Eastgate, a massive auto-mall/industrial building complex just east of Boulder Highway that sports three breweries, a distillery and a wine taproom. Crafthaus' taproom reflects many 'millennial' touches—a bike mounted to the wall, board games, wood pallet inspired furnishings, lime green color scheme—but the beer is out of sight.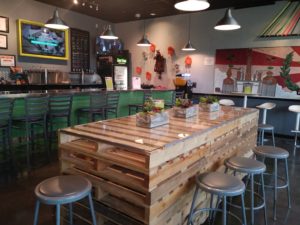 "Resinate" is the ubiquitous IPA found at most Vegas restaurants, but equally appealing is the "Special Delivery" Porter—which offers solid roast flavor without being overpowering or too thin—and "Evocation"—a Saison that likewise offers restrained flavors and rewards drinkers for doing so. If you can only visit one taproom in Henderson, make it CraftHaus.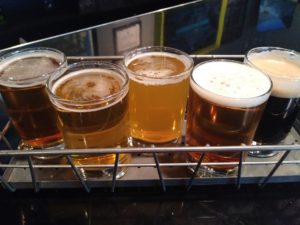 Future note: CraftHaus is currently working on a second taproom, scheduled to be in the downtown arts district.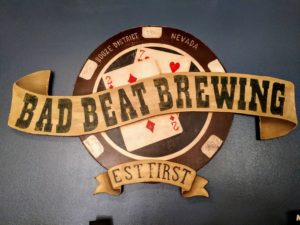 Bad Beat Brewing: Around the corner and within easy walking distance of CraftHaus is Bad Beat. In terms of décor, Bad Beat is pretty much the polar opposite of CraftHaus—grey walls, sharp, modern furniture, and a logo that celebrates gambling (bonus points if you understand the significance of the 2-7 combination in Texas Hold'em).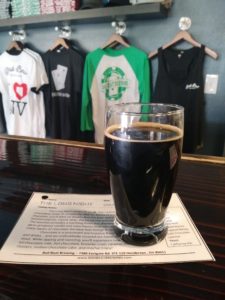 The beers also reflect some attitude. "The Long Night" is a 10.5% ABV barrel-aged Stout that requires sipping; "Hoppy Times" is one of the best West-Coast IPAs I think I've ever had, subtly showcasing BOTH fruity and piney hops. A new brew, "I (Heart) NV" (which was so new, I got to create it on Untappd), is a delicious, complex amber. One drawback of the whole experience is the very small bar, which seats maybe six, in an "L" shape no less.
LoveLady Brewing: LoveLady resides outside of the Eastgate booze district, in the downtown/heritage section of Henderson. They are in a freestanding building on Water Street which features a grand art-deco inspired entryway. The taproom here is among the largest among the Henderson breweries, with ample bar and table seating.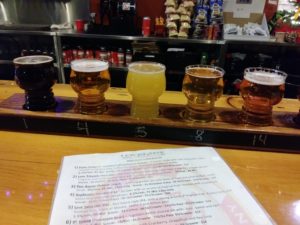 LoveLady seems to lean toward sweeter beers. All the beers I sampled in a tasting flight in December 2018 suffered from sugar overload and were kind of syrupy, unfortunately. Even "HopAtomic", an Imperial IPA, was too sweet for me. Best of the bunch was "Golden Nites", a Czech Pilsner.
Aces and Ales, Nellis: Aces and Ales is not a taproom/brewery, but a beer bar/restaurant that makes regular appearances on "Best Beer Bar in Nevada" lists. In the Las Vegas area, Aces has two locations, one in Tenaya—which is on the far west side of Vegas—and Nellis, which is technically not in Henderson, but we are throwing it on this list because beer. The other taprooms mentioned here do not offer full-service kitchens, so Aces and Ales provides an important service to the beer drinker—food. This is the original Aces, which means an older building, but the draw is the incredible selection of rotating taps. Aces also features a 'rare bottle' list. If you want to splurge and drink something really rare (like a barrel aged/bottle aged stout), Aces is your place.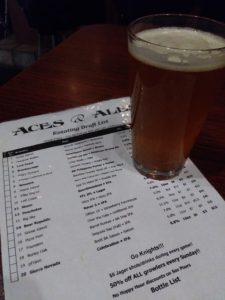 Lodging: The great temptation in visiting Vegas is to stay at a big resort on the strip and Uber to breweries in Henderson. If you stay on the strip, I predict you will never get ½ mile beyond your hotel. They are mammoth contraptions designed to keep you on their property. Since you come to Vegas for the beer, stay closer to the breweries.
Eastside Cannery on Boulder Highway is a newer hotel = clean. It is no-frills for sure (imagine a massive Motel 6) but it's a mere 5 miles from most taprooms and 2 miles from Aces and Ales. It provides a perfect "home base" for exploring beer in and around Henderson. If you want a more "old-school" Vegas hotel experience, Sam's Town is just across the street from the Cannery.
***
If you are still reading this, congrats! You've read the second longest post in AzBeerTraveler history! That's a lot of beer and we aren't even in Vegas yet.
Stay tuned for Part II, where we actually review Vegas beer. But hey, getting there is half the fun, right?
Prost!