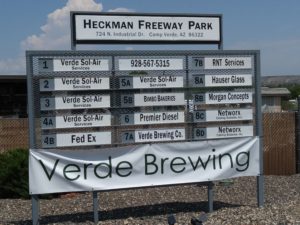 A really cool characteristic of the modern craft beer movement is the tendency of brewers to re-purpose historical buildings and convert them into breweries. A recent article on CraftBeer.com documents how railroad depots, fire departments, a bus station, an abandoned church, post office, and just plan empty buildings have all been adopted, preserved, and transformed into working breweries and taprooms by entrepreneurial brewers. The resulting spaces are downright works of art. Leave it to Arizona—the wacky 48th state that we are—to take that narrative and turn it on its ear.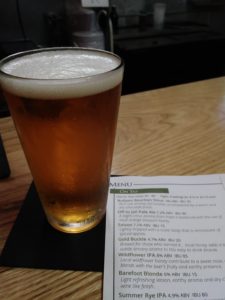 Camp Verde's Verde Brewing Company, currently located in a plain industrial park near I-17 and "the world's largest Kokopelli," is known almost as much for the building they no longer occupy as much as they are known for their beer, their food, and their contributions to the Verde Valley community. For the record, the building they no longer call home is Boler's, a 70+ year-old bar in historic downtown Camp Verde. The beer they brew is tremendous and the food is scrumptious. Oh, and the story of Boler's is larger than life.
The Verde Brewing Company is the work of Alex Goetting, barely out of his college years when he took to brewing beer for The Horn, then his parent's restaurant in Camp Verde. When The Horn closed around 2012, Alex initiated a Kickstarter campaign to make Verde Brewing a stand-alone entity. Goetting envisioned a "farm-to-mug" brewery which would draw upon local resources. In 2013, Verde Brewing Company was officially born and took up residency in the aforementioned Boler's building, right down the street from The Horn.
The Boler's building is a Verde Valley landmark with a history so outrageous it must all be true. According to Steve Ayers, a Camp Verde home brewer, Boler's was built in the 1930s by two twelve-year-olds (not even teenagers!) who had designs on starting a grocery store which would ultimately bankrupt their uncle. The venture went belly up in less than a year. The building would change owners multiple times in the next few years with names like "Curly" and "Hardluck" only adding to the building's colorful history.
Eventually, Otto Boler converted the building into a bar. Boler was known for being extremely frugal—only adding barstools in 1951 after customers complained. The structure changed hands a few more times through the years, but remained a bar and a fixture on Main Street in Camp Verde until 2010 when it closed. Verde Brewing would take up residence there a few short years later. In short order, Verde Brewing was a success.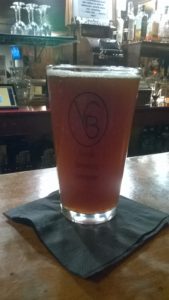 I first encountered Verde Brewing in June of 2015 at Sun Sounds' Made in the Shade beer festival in Flagstaff. They were serving a brown ale. I was immediately smitten. Maybe it was because I was just getting into beer and was driven to learn all I could about Arizona beer, or that the beer was just that good. On that day, I found a brewery to champion.
I've visited at least four more times over the next few years, with my most recent visit being September 2018. Each visit, the beer has been delicious (Gold Buckle, Bullpen Stout, Wildflower IPA, and the Honey Brown are all delicious) and the food has likewise been terrific. I've had their burgers, prime rib dinners, and the Elote nachos (oh, man…the nachos!). Every time it has been great. Their I-17 friendly location and proximity to other attractions in the Verde Valley make them an ideal destination. There's so much to like here.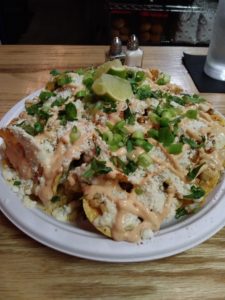 Then, in late 2017, it kind of went sideways.
A Facebook post by Verde Brewing in September 2017 abruptly announced that they were moving their kitchen operations as well as the taproom to their brewery site, in an industrial complex on Industrial Drive, closer to I-17. Much to the confusion of their Facebook followers, they left the Boler's building with little notice. Some Facebookers noted that they showed up for dinner to find the doors locked. Through Facebook, Verde tried to assure visitors (to the website and the Boler's building) that Verde was very much open; they just changed their location.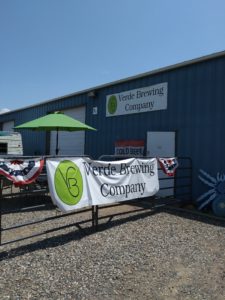 A 2018 conversation with one of Verde's servers clarified things a bit; Verde needed more space to keep up with demand. The Boler's building, constructed by pre-teens in the 1930s on a foundation of rocks—not concrete—just couldn't deliver. It would take too much construction work to bring the old building up to the standards needed by the kitchen. In the words of Verde Brewing, "We wore out the Boler's building, or it wore us out." Put another way, Verde was becoming a victim of their own success. So, moving the kitchen to the brewery location seemed the best option.
The good news in all of this is that it seems Verde Brewing has adapted well to having the kitchen and brewery in the same space and indeed, they seem to be thriving. Verde isn't serving the entire menu they did at Boler's, but there's enough variety (sandwiches, nachos, salads) to meet most appetites.
My most recent visit in September 2018 happened to fall on their "one-year anniversary" [one year at the industrial park location] and business was booming.  I arrived mid-day and it was standing room only. We ended up sharing a table with another family from Phoenix it was so crowded.
As I've already hinted, the beer here is terrific. I love the honey brown ale. On one visit in 2016, they had sold out of all other beers, except the honey brown. I came to love it that night. On other visits, I've had the Bullpen Bourbon Stout (think of a slightly milder version of Ballast Point's barrel-aged Victory at Sea) and the Gold Buckle (which is just as drinkable as Huss' Scottsdale Blonde) among others. At the anniversary party, the were serving an Amber which was brewed with local apples.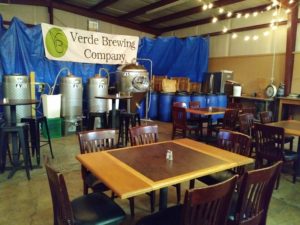 The digs at the brewery/taproom/ restaurant are nothing special—a smattering of mismatched tables, a bar with seating for seven or eight, and a big blue tarp hanging from the ceiling, which runs the length of the room. Not the most attractive setting for sure, but when you remember the story of how Verde came to be there and that the brewery space was never intended to serve double duty as a restaurant, you might be willing to cut Verde some slack. When you taste the food and try the beer, you certainly won't mind. Whenever I'm there, no one is talking about the tarp--they are talking about the food and the beer.
I'm told that Verde is hopeful they might someday find space near the I-17/AZ 260 interchange where they perhaps can build a stand-alone restaurant. Alex Goetting says they are in no hurry, though. Personally, I'm hoping that day comes sooner than later. Until then you owe it to yourself to visit the brewery that once occupied one of central Arizona's most historic bars and left it for a nondescript industrial warehouse and turned it into a must-visit brewery destination.
---
Recent Visits by Arizona Beer Traveler
Summer 2015 (Boler's location)
April 2016 (Boler's location)
April 2017 (Boler's location)
August 2018 (Industrial Drive location)
September 2018 (Industrial Drive location)
Location
724 E. Industrial Drive
Camp Verde, Arizona 86322