Throughout history, beer has played a crucial role in developing and maintaining community. In the middle ages, the church played a central role in medieval life because with monks taking the lead in brewing, church was where the beer was. A few centuries later, British porter houses (eventually called public houses) were the center of civic life because they were known as places where one could get a good meal (a porterhouse steak, even) and gather over a pint with just about everyone in town. In the 20th century, beer became the calling card for many a college frat party gathering. One writer called beer a "social lubricant" which draws our attention to beer as both a communal drink and its ability to lower our inhibitions when taken in large quantities.
Millennials know something about community too and they have seemingly taken the concept to dizzying heights. Millennials love to build community through sharing. Uber is ride-sharing—make friends! PODShare is hotel room sharing—make friends! TOMS is shoe-sharing—make friends in another country! Even the ever-present communal table found populating about every restaurant in America these days is based on this idea. No need for a private booth…share your table—make friends!
If you take this idea of community through sharing and you add beer, you have O.H.S.O.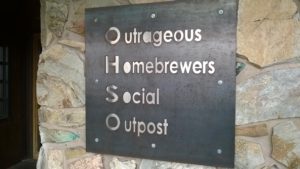 On one level, O.H.S.O. is a fairly standard brew-pub. With four established locations in the Phoenix area, O.H.S.O. offers a one-page menu of burgers, salads, sandwiches and a few specialties along with the in-house brewery and distillery. Each O.H.S.O. offers a mix of house brews and Arizona-focused guest taps. But the way one experiences O.H.S.O.—the open seating areas, the indoor/outdoor design, community tables, dog friendly patio, the brewing happening in tanks right next to your table—takes your eating and drinking experience out of the dark crowded public houses of…yore…and brings it squarely into the 21st century. Bike sharing and all.
What to Expect
Paradise Valley. The Paradise Valley O.H.S.O. location features three different seating areas: an inside location with some private tables and two outdoor/patio areas featuring several very large booths, communal tables and sofa seating around a common table. The main bar is inside and seats perhaps 20. The outdoor area also features several communal games, like cornhole and ping-pong. There is also a second bar area outside and two fountains made of re-purposed bar taps. The booths and tables were constructed out of wood and would be right at home as roadside tables at, say, Grand Canyon National Park.
The lights on the patio are unique as well, with bulbs recessed inside dark wicker baskets, which give off a warm orange glow. Orange is the dominant color in O.H.S.O.'s logo, so this is very much by design. Also by design is the general rustic, organic, leave no carbon footprint feel of the place. When the restaurant is full, it is like the whole city came to the park to eat, drink, and be merry. Being dog-friendly helps add to the atmosphere. Expect at least half a dozen or so pups to be on the patio and at least one to be looking over your shoulder while you eat.
Much of the brewery operation takes place inside, behind the bar and behind the kitchen. [Windows in the men's room open to the brewery floor, BTW.]
Every time I have been at the Paradise Valley location, there have been 10 – 12 in-house brews available. I really like "Orange Pedal" and "Boom Dynamite" but the "89Ale" is a bit too dank for me. As for "Popcycle"…I'm not that much into pink raspberry beer. O.H.S.O. often features multiple AZ brews and national beers as rotating guest taps.
O.H.S.O. also does quite a few special features and events during Arizona Beer Week. Each year, they feature a "Donut Day" donut/beer pairing and the "Yeastie Boys" series where they showcase the role of yeast in the beer-making process.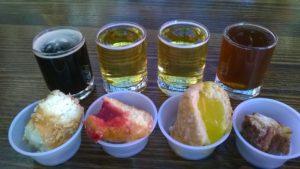 Arcadia/Indian School. The Arcadia location follows much of the same community-minded game plan as Paradise Valley, although the building itself seems smaller and there's less of a sense of "openness." There are multiple seating areas: inside (with no booths, but many individual tables), a through-and-through bar which seats maybe 15, surrounded by a few tables, and two patios--a small area out front and a larger one in the rear of the building. [The rear patio has its own bar, similar to the outdoor patio area of the Paradise Valley location.]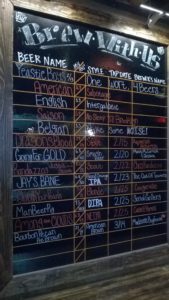 The brewery operation at Arcadia, however, is much more front-and-center. O.H.S.O.'s "Brew with Us" program (where patrons can brew beer with O.H.S.O.) is based here and several of the brew tanks are right next to the indoor dining area. It's a working brew pub and they ain't dainty about it. Behind the rails—but not behind glass—are tool boxes, brooms, hoses, buckets of fermented yeast run-off, and kegs. If you are into brewing, it's all very exciting to see. If that's not your thing, consider sitting outside on the patio.
The parking at the Arcadia location can be a bit of a challenge. There are perhaps twelve spaces in front of the restaurant, which they share with the German Sausage store next door. If those are taken, there's more parking in the rear. On weekends, they offer valet parking.
Locations
10810 N. Tatum Blvd. #126
Phoenix, AZ 85028
4900 E. Indian School Rd.
Phoenix, AZ 85018