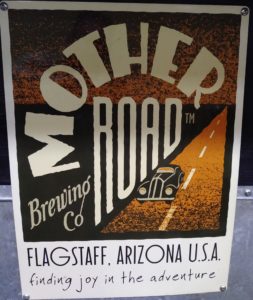 When I write about the various breweries I visit, I always try to focus my thoughts on the brewery's identity. What is that one key characteristic that really defines them? For North Mountain Brewing in Phoenix, it's the sense of community they are building in Sunnyslope; for Dark Sky, it's the crazy experimentation; for Bone Haus in Fountain Hills, it's the dark macabre sensibility that extends not just to their taproom, but their beers too (who brews a black IPA in summer in Arizona? They do!).
For Mother Road Brewing Company, you can't escape the fact that so much of their identity is wrapped up in their flagship IPA Tower Station. It's not unusual for a brewery's identity to stem from a single brew, but for Mother Road, it's an especially powerful association.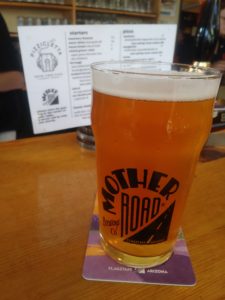 Most Arizonans know Mother Road via Tower Station. If there's a beer in Arizona that truly rivals Four Peak's Kilt Lifter's tap presence in the state, it is Tower Station. It's everywhere.
Tower Station perhaps gained its popularity by being a gateway IPA. If you are not used to the hop intensity of most American IPAs, Tower Station's lighter approach may be appealing. Its hop profile doesn't completely overwhelm you like Dogfish Head's 60 Minute IPA can. It's also not fruity like most hazy IPAs that might turn off the average beer drinker. I sense that Tower Station is the first IPA that a life-long Coors Light/Bud Light/Miller Lite drinker might venture to sample.
The overwhelming state-wide popularity of Tower Station is perhaps the reason Mother Road features only a few key beers in their core line up. Unlike the other big dog of Flagstaff brewing—Historic—Mother Road seems to focus on their four core beers and experiment lightly.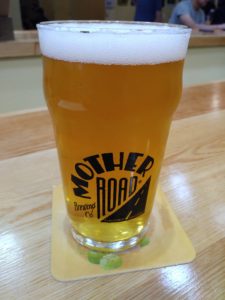 While Historic may have upwards of 18 beers on tap at any one time, Mother Road may have half that. When visiting Mother Road, you'll likely always find staples Tower Station, Lost Highway, the Kolsch and Daily Driver. Beyond that, you can expect maybe only 2 – 3 experimental beers at any one time.
To that end, on a recent visit, I found two smaller batch beers at the downtown location—Sunday Driver (an extremely light lager) and their 7th anniversary ale on both CO2 and nitro. They must be so busy cranking out batch after batch of Tower Station, they have little time for much else.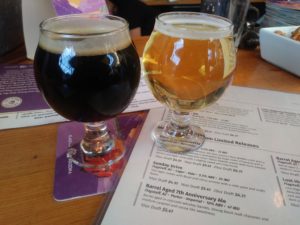 But, success brings expansion and Mother Road has been able to do that to an overwhelming positive effect in Flagstaff. They sport two locations: "Butler" (named for their street address) which houses the main brewery operation and a taproom; and "Downtown" which serves as a taproom/patio and experimental laboratory. I've been fortunate to visit both locations multiple times.
Butler
Mother Road's Butler brewhouse is located along Butler Avenue, on the eastern side of Flagstaff, in a small strip mall/industrial plaza. It's not totally out of town, but the street signage is so inconspicuous, you might miss it.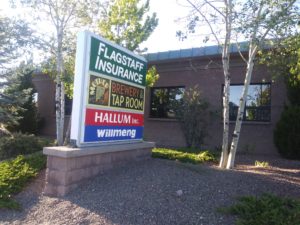 Immediately upon walking into Butler, you are overwhelmed by the smell of malt. The wonderful sweet musty aroma of malt. I mean, the brew kettles are so close to the bar you could almost reach behind you and touch them.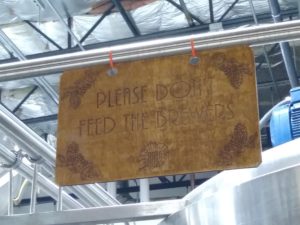 The taproom area is dominated by a large bar. It could probably accommodate 20 or so people. There's also a standard seating area with tables and booths off to the side.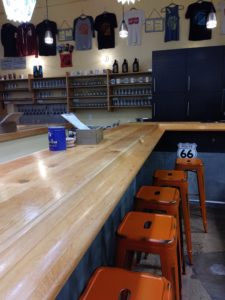 Butler is the more mature of Mother Road's two tap houses. Sure, the building is the newer and it's not quite broken in yet, but the taproom just seems stale. Crafty, paper light fixtures hang from the ceiling. There's an overload of taupe/neutral colors here. There's a patio, of course, but it overlooks the parking lot and the neighboring strip mall.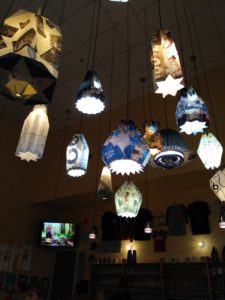 What the Butler location lacks in hipness, it makes up for in intrigue. During a visit, you may get to watch Tower Station being made. I mean seriously…the brew kettles are right there. On one visit, I even accidentally got sprayed by an errant hose. For beer snobs like me, it was a welcome moment.
Downtown
If Butler is Mother Road's responsible adult, the downtown location is its unruly teenager.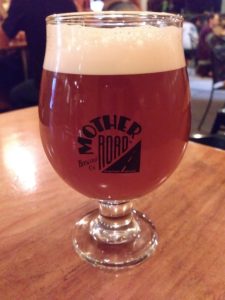 Mother Road-Downtown is far closer to NAU and central Flagstaff than their Butler locale. It's along Mike's Pike just south of Phoenix Ave, the railroad tracks and Route 66. It's near TWO pizza joints and just oozes millennial coolness. Their Google entry includes photos of the staff in 1920s era attire and classic model-T cars parked out front. That ought to give you and idea of what they are going for. They are celebrating Route 66 after all.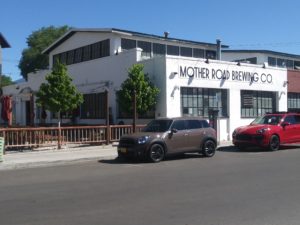 The exterior of the building reflects an old-school industrial warehouse vibe and seems unchanged over time. Inside, it pulls double duty as Mother Road's experimental brewery and second taproom. Inside the building, there's a very small bar (seats maybe five) and a few tables.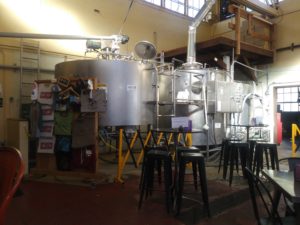 But the real draw here is the exterior patio. There is seating here for upwards of 75 people and every time I have visited, every seat was taken. There are no cornhole games, no darts, no horseshoe tournaments—just people (and their dogs) hanging out and enjoying themselves.
That's just what beer does.
---
Recent Visits by Arizona Beer Traveler
July 2019
August 2018
Locations
Butler
1300 E Butler Ave #200
Flagstaff, AZ 86001
Downtown
7 S Mikes Pike St.
Flagstaff, AZ 86001