If there is a brewery in Arizona that could also pass for a speakeasy, it must be Barnstar Brewing Company. To get there, you gotta know the secret. Like traditional speakeasies, Barnstar is not easy to find. Unlike traditional speakeasies, you don't need a password or a secret knock. But you must be willing to do a little detective work, exert some effort, and maybe rent a four-wheel drive.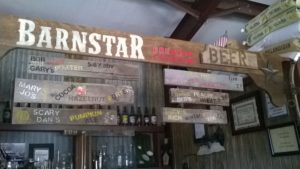 I discovered Barnstar by accident. I was researching Arizona beer while looking for study materials for my Cicerone study plan and I came across Brewing Arizona, Ed Sipos' homepage for his book about beer in Arizona. Among the breweries listed on his site was Barnstar. It was the first time I had seen the name. I cross checked it against the list of breweries I had from the Arizona Brewer's Guild. It wasn't listed there. Fortunately, a Google Maps search for "breweries" in Arizona turned up their location. Barnstar Brewing is, shall we say, well off the beaten path, in Skull Valley, Arizona.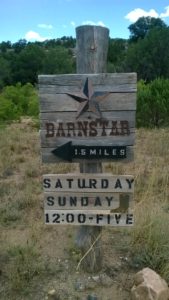 Skull Valley occupies a largely undeveloped, wide open area of Arizona tucked between Prescott Valley and Highway 93. Except for a few structures scattered about—a post office and a fire station among them—Skull Valley seems desolate. The somewhat rugged terrain and lack of readily available services I'm sure keeps most travelers away. Driving through Skull Valley generally means you are taking the long way to Prescott. The very long way.
I suspect most weekend visitors to Prescott never get beyond downtown or venture westward over the seemingly daunting hills and through the forest that forms the Prescott Valley's northwest side. South of Prescott, Highway 89 asks drivers to climb over Quartz Mountain before it takes you to Peeple's Valley. If you do, you arrive at the southern gateway to Skull Valley and you'd have to reverse course and go northward again, this time on Highway 10. It's not that Skull Valley is completely inaccessible. You just need a really good reason to want to go there.
Fortunately, Barnstar Brewing gives you plenty of reason.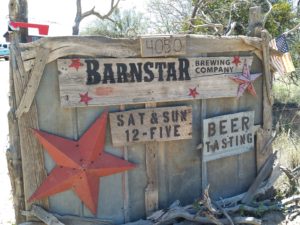 Owners David and Sandy Bigelow along with Jason Johnson, director of operations, have done the seemingly impossible—carve a destination brewery in the most unlikely of places. To be fair, Barnstar is a mere 20-minute drive from Prescott via Iron Springs Road. But the brewery sits on a stretch of unpaved road, nearly four miles from Highway 10.
Still, you will want to search the map, follow the signs, leave the sedan at home (you'll drive through a few dry washes and over a few miles of washboard road) and spend the day at Barnstar. Yes, the day. After expending all that effort just to get there, you don't want to spend too little time enjoying what they have to offer.
What to Expect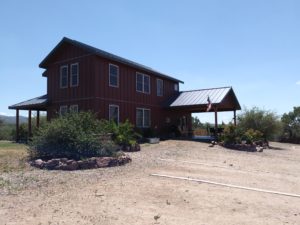 On the Barnstar property, you will find three structures: the Bigelow's home, a large shed which houses the brewery operation and taproom, and a small guesthouse. All three buildings have outdoor porch/patio areas for seating. You are welcome to find a seat on the Bigelow's house porch. When it is cool, I prefer sitting on the guesthouse porch, which features 6 – 8 Adirondack chairs and faces Granite Mountain.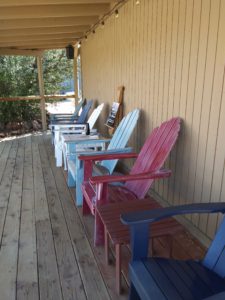 On my first visit, I sat on the guesthouse porch and watched a thunder storm roll over Granite Mountain before dissipating over the valley. It was glorious. You will also find picnic tables under a large tree, cornhole games, a small garden and two miniature horses. And you'll likely be greeted by a friendly dog or two when you arrive.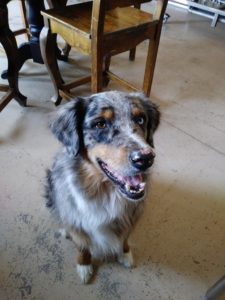 The taproom in the shed features a variety of seating, from a few standard tables to a small couch. Much of the room's décor is "new western" with hand-painted signs, reproductions of classic western signs, and sheet metal hanging on the wall, which makes the interior of the taproom look like the exterior of an old saloon. How'd they do that?! Since the taproom also shares space with the production floor, in the taproom, you will also find shelves with the raw ingredients they use to make their beer. While that might be off-putting to some, I find it fascinating.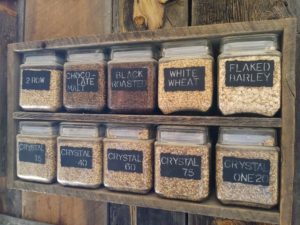 Really cool are the jars of malts and hops on display. The bar is at the center of the room, but there's no seating at the bar since that serves as the main service area and cashier stand.
If you sit in the taproom, you'll have a good chance to strike up a conversation with Dave or Sandy or perhaps Jason. They all are genuinely appreciative to have you visit their brewery and spend time with them. Last January, I visited Barnstar for the second time. When Jason heard this, he hugged me, like I was an old friend, grateful to see me again.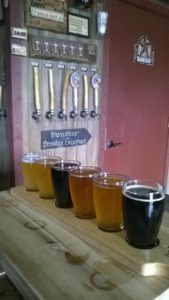 Barnstar features 8 – 12 beers on tap at any one time. My first visit I had a flight. All the beers I tried were good, but none really stood out. I eventually opted to take a growler of Oatmeal Stout home. On my second visit, I tried "Lucy's Rich Winter Zesty IPA" which was outstanding. [Editor's note: See below...unfortunately, this IPA was a one-off. Sigh...it was great]. On subsequent visits, I've tried all their beers multiple times and most recently, the Dark Chocolate Porter has really come into its own. In summer 2019 it was really good.
They serve a few small food items, like brats and hot dogs and packaged chips, but you are welcome to bring your own food.

On my first visit, I asked Jason why they don't advertise or work harder to get the word out. He replied that they didn't need to. Business was booming. [I guess that means they no longer qualify as a "speakeasy"!]
Barnstar is only open on weekends and Jason says they are content with that. There's no desire to grow bigger. While some Arizona breweries are opening new taprooms or selling to bigger brew corporations, Barnstar is content with where they are and what they are doing in Skull Valley. That's a big part of the allure here and reason to visit. Come to Barnstar, pull up a chair, and take a break from the world, even if just for a few hours.
Suggested Itinerary
If you approach from the south, take Highway 89 north over Yarnell Hill and through Peeple's Valley. Take the Kirkland Junction turnoff toward Kirkland and then north to Skull Valley. The drive takes you through ranches and open, undeveloped spaces in Arizona. This is definitely "the long way" but part of the adventure. Look for the signs on Highway 10 through Skull Valley directing you to the brewery.
There are no lodging options in Skull Valley, except for Juniper Well Ranch, about 2 miles north of Barnstar. Advanced reservations are required at Juniper Well, often several months in advance. During the summer months, try getting a reservation at Juniper Well in one of their "soft sided lodgings." Spend a night in a tepee or a yurt! If glamping is not your thing, they have multiple cottages for rent.
Recent Visits by Arizona Beer Traveler
June 2019
August 2018
January 2018
July 2017
4050 N. Tonto Road
(Forest Service Rd. 102, Prescott National Forest)
Skull Valley,  Arizona  86338
---
UPDATE, August 2018
During a summer 2018 visit, I had a chance to chat with Jason Johnson about Barnstar, their beer, and what's next for the small brewery.
First, Barnstar has acquired a new BrewMagic XL 1.7 bbl brew kettle system, which will allow them to increase their brewing capacity. In an age where breweries sport multiple 40 bbl kettles, a single 1.7 system may not seem like much, but for a microbrewery like Barnstar, this is a big upgrade. Jason said Barnstar continues to be busy, drawing dedicated clientele from both Prescott and Phoenix. Hopefully, more brew fans will continue to find their beers. Speaking of their beers...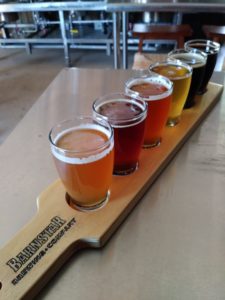 Jason said Barnstar continues to focus on and hone their core twelve beers, including a terrific Citra Pale Ale, Chocolate Porter, and a Pumpkin Ale (yes, they brew a pumpkin ale year-round). While some breweries churn out experimental beers on a regular basis, Barnstar has learned what their fans like. Much to my chagrin, I learned that one of my favorite brews, their Zesty Lemon IPA was a "one-off" and would likely not return. Keeping up with their twelve core beers leaves little room for experimentation. Jason said they do try to squeeze in a new IPA every so often (hence, the Zesty IPA last winter). When I was there, they had just tapped a Black IPA, in fact.
Overall, their Citra Pale Ale is the star of the show. It is a nice, fruity, piney Pale Ale without being over done. I find that a lot of breweries, in a race to push the boundaries of brewing, end up with undrinkable brews. Barnstar's Pale Ale goes conservative, resulting in a beer that is just right.
That conservative tendency, however, extends to most of their beers and doesn't serve all styles equally well. Most of their other brews are quite mild, including the Red Ale, Peachy Wheat and Oatmeal Stout. After a flight, I found myself looking for something with some bite. A little more dryness and stronger roastiness would serve the Oatmeal Stout well, and give it some distinctive character, I think.
But all of that does little to diminish the overall experience of making the trek to Skull Valley and enjoying the day at Barnstar, Arizona's most unique microbrewery.
---
UPDATE, June 2019
I recently found myself at Barnstar on a lazy Sunday afternoon and perhaps my initial description of "speakeasy" no longer applies to Barnstar. The word is out and business is booming.
The most noticeable change is that Barnstar is working to provide more seating areas to accommodate the crowds. It used to be that you could choose to sit in the taproom, on the Bigelow's front porch, under the giant tree overlooking Granite Mountain, or in one of the Adirondack chairs on the smaller porch of the out-building. Now, there are tables and chairs tucked into every corner of the property.
Additionally, there's a "party area" beyond the fence between the taproom and the house, which can accommodate larger groups.
One might fear that with success, Barnstar might loose its charm. No need to worry. Although the crowds have grown larger, Barnstar has managed to retain its neighborly vibe. David still makes the rounds, shaking hands with visitors. Jason and Sandy crack inside jokes as they pour beer.