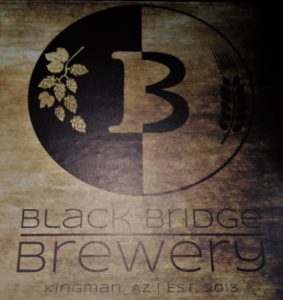 Kingman, Arizona, is not known as a tourist destination. It's a rest stop.
Looking at a map, Kingman is almost exactly halfway between Flagstaff and Barstow and not quite halfway between Phoenix and Las Vegas. Situated at the intersection of I-40 and Route 93, I would venture that the number of people who pour through the city's three major rest stops each weekend would rival the population of the city itself.
In the barren landscape of northern Arizona, the wind blows hard. With mountains to the south, west, and east of Kingman, wind whips in from California and Nevada and charges across the city, escaping to the open plains to the north. Snow in the winter months tears up I-40 making the road rough. Any drive into Kingman can be dangerous as the numbing quality of the unchanging landscape tempts drivers' minds into wandering.
Perhaps it is better to think of Kingman as an oasis—a reprieve from the harsh land. If so, oases provide refreshment. In this case, our oasis is Black Bridge Brewery.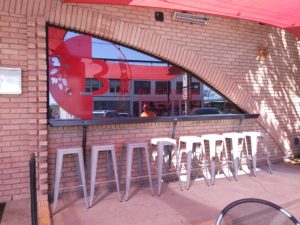 Black Bridge Brewery occupies a small space in what could be considered the historic district of Kingman. They are on Beale Street, one block north of and parallel to Route 66, which is, of course, historic in its own right. Most travelers know Beale Street as the exit which takes them off I-40 and north to Las Vegas, but if you turn east instead of west down Beale for half a mile, you're in historic downtown Kingman. Head down Beale and look to the north side of the road, between 4th and 5th Streets. Black Bridge is in a small red brick building sandwiched between an antique store and a…body jewelry shop. I'm not making that up. Downtown spaces are trendy right now, so don't be afraid to pull up a stool and enjoy a cold one.
What to Expect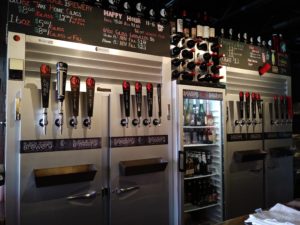 Black Bridge's tap room is small, but they brew a lot of beers. On my initial visit, they offered 20 different brews, although I found out later that some of these were mixed beer blends. The bar seats six and they have table seating for perhaps a dozen more. There's a small patio in the front facing the street which includes a table or two and about eight rail seats. The brewing operation resides (mostly) out back. It's a small room for sure, but when you are looking for an oasis, you tend to not be picky.
My initial visit was on a random Wednesday, around 1pm. When I arrived, there were three people at the bar and an employee was at work prepping a brew kettle. While I was there, a young couple came in, telling the barkeep that they were relocating cross country from Washington D.C. to L.A. They had "heard about the brewery" and wanted to visit. Hmmm…this craft beer thing seems to be catching on. Nationwide, even! A bit later, the mailman entered and had a long conversation with the barkeep. Since when does the mailman linger?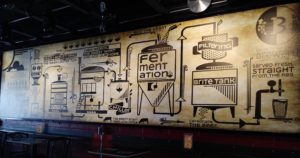 The taproom's décor is mostly dark, but there are some interesting touches, such as the large mural along the back wall describing the brewing process. The brewery offers a "beer it forward" program, where patrons can pay for someone else's beer. Just sign up on the chalkboard near the door.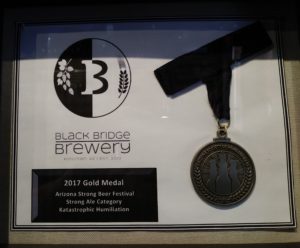 Also adorning the walls are the numerous awards Black Bridge has won, including Best Strong Ale at the 2017 Strong Beer Festival (for their barley wine "Katastrophic Humiliation").
The generous happy hour–11a - 6p, seven days a week–offers $1 off pints and half pints. There is no food service at Black Bridge, but there is a café nearby and plenty of options lining the street, including BBQ directly across the street.
Suggested Itinerary
As noted above, there is a great temptation when visiting Kingman to…visit. Who wants to stay in Kingman? Again, Kingman is the city you go through when going somewhere else. Hey, Vegas is 90 minutes away…why stay in Kingman?
Because you are drinking beer, that's why. Be smart. Don't pull into Black Bridge and pound a few pints and get back on the road. This site is all about traveling. Going places. Seeing the state. You can't do that if your car is in a ditch, or DPS's finest have detained you. Many of Black Bridge's brews are high ABV. Their "Poison" series scores upwards of 12, 13, and 14%. Linger, like the mailman. So, plan your visit to Black Bridge around an opportunity to stay longer than 15 minutes.
If you are driving to Kingman from somewhere else—and who isn't—you likely will arrive in Kingman around lunchtime. Grab a bite to eat in the historic district and visit the Route 66 Museum, located in the Powerhouse center only a few blocks from Black Bridge. The Mohave County Museum of Arts is next door to Powerhouse and features pioneer and mining history artifacts. If antiquing is your thing, there's plenty of opportunity for that on foot around Black Bridge. Consider visiting Black Bridge later in the day before turning in at one of Kingman's hotels on Route 66, very short distances from the taproom.
Some of Kingman's better attractions are farther afield and require careful planning. Grand Canyon West, featuring the Canyon Skywalk, is several hours from Kingman via mostly dirt road. If you have multiple days in town, consider a morning visit to the Canyon and finishing your evening at Black Bridge. A bit closer but still requiring some driving is a visit to Keepers of the Wild Nature Park, an animal preserve 30 miles north of Kingman, along Route 66. Keepers of the Wild rescues large animals such as tigers, primates and bears and provides care for them in a sanctuary setting. Farther north still is Grand Canyon Caverns where you can spend the night sleeping in an underground cave.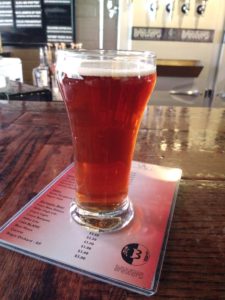 Having said all of that, should you plan for three days in Kingman and Black Bridge? Well...maybe not. Black Bridge is small, but they clearly have a dedicated local following. Their numerous awards testify that they are doing something worth at least one visit to the windswept northwest corner of Arizona.
Recent Visits by Arizona Beer Traveler:
April 2018
421 Beale Street
Kingman, AZ 86401