Bottom Line: It's the Haunted Mansion…with beer!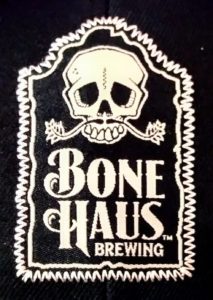 Not long ago, Las Vegas hotels and resorts were known by their "theme." The Excalibur offered visitors a medieval experience, with the hotel's exterior being shaped like a castle and the basement being home to Medieval Times (remember them?). Treasure Island fancied itself as a pirate's hideaway, complete with dueling pirate ships in the lagoon. Much of this theming has disappeared from Vegas. The Flamingo is less tropical, Monte Carlo is less French Riviera, and The Sahara is…who knows?  Today, most Vegas hotels are seemingly content with generic and bland décor.
"Generic and bland" has crept its way into Arizona's taprooms as well. While a lion's share of attention is (properly) given to brewing and beer recipes, little attention has been given to taproom décor. "Large open spaces with modern industrial style furnishings" could describe a dozen-plus brewery spaces in Arizona.
Bone Haus Brewing to the rescue!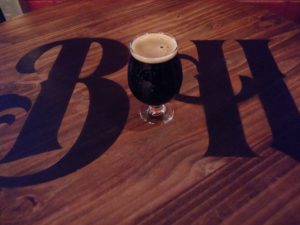 Bone Haus is a clear remedy for the bland taproom. Owners Andy Weiner and Keith Chapman are not afraid to have fun with the name—a nod to an older term for…wait for it…a cemetery. Ever wanted to share a pint with a skeleton? How about be served a beer from a tap with a femur for a handle? The brewery operation of Bone Haus resides behind the wrought iron gates, just past the casket. If you have even the slightest inkling of macabre in your soul, you'll love it here. There are clever skeletal touches all over the taproom.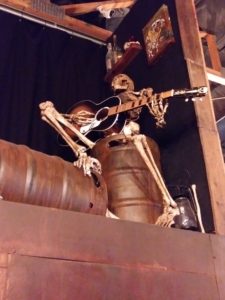 But the decoration is not just a gimmick to cover up lame beer. The brews here are solid and in keeping with the theme, the balance of styles leans dark. On my initial visit, over half of 14 beers on tap were stouts, browns or other dark ales.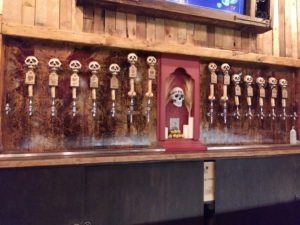 Bone Haus has been receiving significant positive press for their Black IPA, "Miner's Debt"—a brew that rivals that 'other' Black IPA brewed in Arizona. Other creations include a Bourbon Porter and a Red Velvet Stout (which other drinkers were raving about). If none of those float your boat, try one of their beer blends, like Mocha Macabre—a combination of their Chocolate Porter and Coffee Milk Stout.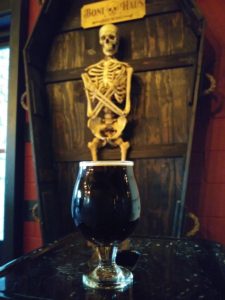 You should try to visit after dark, when the Edison bulbs cast an eerie orange glow across the bar and the cemetery scene inside comes alive. Bone Haus is located in the Fry's shopping plaza on the south side of Shea at Eagle Mountain Parkway in Fountain Hills.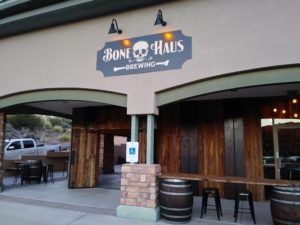 They are on the back side of the western building of the plaza, which is significant for two reasons: 1) That makes them kind of hard to find. Miss the turn and you'll have to backtrack; 2) The outdoor patio overlooks the Eagle Mountain golf course. After sunset, the entire mountainside goes dark, which only adds to the allure of taproom.
There is no kitchen at Bone Haus, but they maintain a regular schedule of food trucks.
Recent Visits by Arizona Beer Traveler:
January 2019
Location:
14825 E. Shea Blvd. #101
Fountain Hills, AZ 85268