---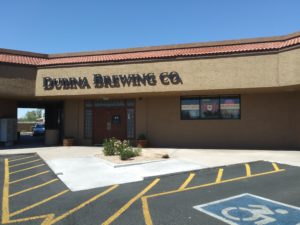 Dubina Brewing Company is a small, family-owned brewpub located in a strip mall, hidden behind another strip mall, along 67th Avenue, just north of Bell Road in Glendale. If you aren't headed north on 67th Ave., you'll never see it. But don't let the semi-obscure location deter you. That Blood Orange Bell Road IPA you've been drinking? Yeah. That's made here. That and a number of other really good beers.
What to Expect
"Dubina" is a family name. It is also the name of a hamlet in the far east Czech Republic, the historical and geographical roots of the Dubina family. The Dubinas have applied those eastern European sensibilities to their decor as the brewpub features simple furnishings-wooden tables, a well-loved wood bar, dim orange lighting. Along the walls, you will find photos of the city of Dubina.
The pub itself is one large room. It lacks the high ceiling that, say, North Mountain Brewing has, so the space feels less like a beer hall and more like…an eastern European pub. The space is divided into multiple areas: a dining area with standard tables, a bar which seats perhaps 12, and the brewery operation. Yep. When you walk in the front door, the first thing you will see are the fermentation tanks. You must walk past them to get to the bar at the back. More so, surrounding the tanks are dozens and dozens of empty kegs.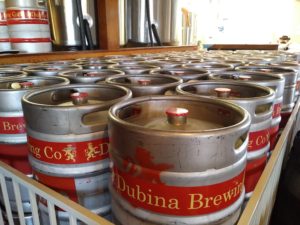 In fact, the kegs are stored on both the left and right side of the front door. Maybe this means Dubina is growing beyond their building. I mean, the tanks aren't just laying around—they are stored and stacked neatly (it's a wonderfully cool effect)—but perhaps storage is a problem. At the very least, it is perhaps a sign that their beer is getting good distribution.
Speaking of the beer, the eastern European theme extends to their brews as well.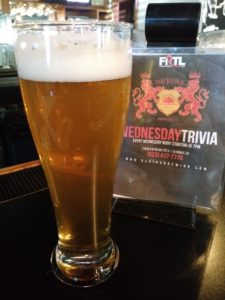 "Grandpa's Pils", a Czech Pilsner named after family patriarch James Sr., is a solid, clean representation of the style. Less 'czechy' but still great is their "Maple Ale." Officially, it is listed as a seasonal, but I've had it both in October and June. [A very good, sweet beer. I had it with the dessert macaroons…oh my!] The Dubina Ale is a solid Scotch Ale/Wee Heavy. But the Blood Orange IPA is off the charts. Only mildly pungent, but rich orange flavor and strong earthy hop and orange bloom notes on tasting (maybe they're dropping in eastern European hops…). It is one of only a few beers I have rated "5" on Untappd. Every time I visit, I take a four-pack of it home.
Dubina has a food menu that features fairly standard pub-grub items: burgers, salads, nachos, wings, pretzels. I haven't eaten there enough to fully comment on the food, but during my last visit, the patron next to me commented that the burger they ordered was "the best I've had in a long time."
Recent Visits by Arizona Beer Traveler
October 2017
June 2018
Location
17035 N. 67th Avenue, #6
Glendale, AZ, 85308