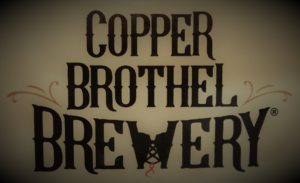 Sonoita, a small community south of Tucson, is one of the state's official viticulture regions—known for wine making. It's kind of hard to imagine Arizona being a wine-making state, but south of I-10 past Tucson, the elevation rises to almost 5000 feet—an ideal cooler climate for growing grapes and turning them into wine.
Why talk about wine on a website dedicated to beer? Three words: Copper Brothel Brewery.
Until last year, the "center of town" in Sonoita was basically the intersection of routes 82 and 83. On that corner, you will find a gas station, Dos Cabezas WineWorks, and the post office. All the wine making and tasting rooms spread out to the south of town. Copper Brothel Brewery's opening in 2018 essentially makes them new the center of town. They are only about ¼ mile from "the intersection," but their presence is making a monumental impact on the place.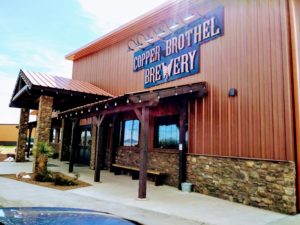 When I visited Copper Brothel in Spring 2019, I rolled into Sonoita about 11:30am on a Saturday afternoon. It was getting hard to find a parking spot out front. Inside, I took a seat at the large bar, but tables were filling up. By 12n, every seat in the place was taken. Bikers, wine tourists, beer tourists, international tourists and likely a few locals were all clamoring for a seat.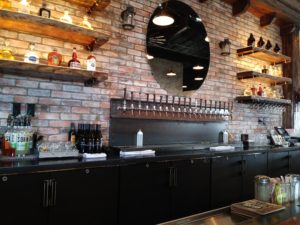 The bar itself is a work of art, with brickwork behind the taps rising to the ceiling and wood beams and railroad spikes adding aesthetic touches that remind you that you are still in "the old west."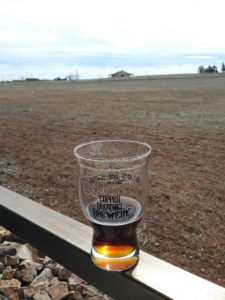 If weather permits, you may want to take a seat on the rear patio. Sonoita still has generous open land and from the back patio, it slowly rises to reveal other homesteads dotting the horizon. The wind tends to whip fiercely in Sonoita, so tread lightly.
Copper Brothel is a full-service restaurant, which is part of the attraction for certain. Last time I was in Sonoita in 2017, dining options were severely limited, and Copper Brothel is an enormous improvement. I had the two-taco plate (outstanding). But they do make their own beer too and that's what's important here.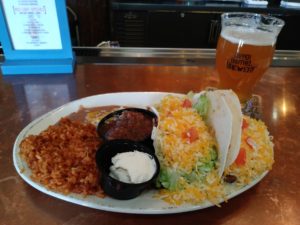 Copper Brothel brews a full lineup of house beers: a gold ale, a wheat, a stout, a porter. Of particular note here is the "Roxie's Code Red Kolsch." Kolsch's are a hybrid beer, made from ale yeast but conditioned cold like a lager. The result is usually a bright yellow, clean, clear, mildly malty beer. Copper Brothel tweaks this traditional process by throwing in diverse malts, which results in a sweeter, redder, and absolutely fantastic beer. You get clear toffee and caramel notes here with maybe some dark fruit. Imagine a Fuller's ESB with more mouthfeel and a tad sweeter and you get the idea.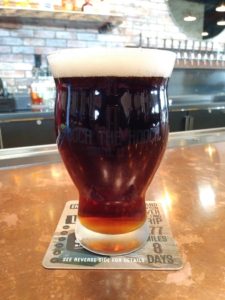 In keeping with the brothel theme, all the beers are named after a "working girl:" Holly, Maggie Mae, Ivy, and so on. Lest you be turned off by the implications of that, note that Copper Brothel is both run and managed by an all-female crew. The lead brew master is also female. It is worth hunting for an explanation of the business, authored by the ownership team, that appears as part of a Google Review (go through Google Maps and scroll through the reviews).
So, before you race on down I-10 to wherever, take a detour through Sonoita. There's beer among the vines!