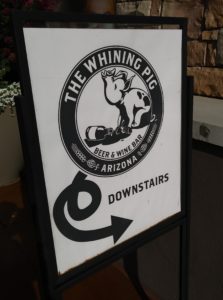 The Whining Pig is an Arizona-based chain of small wine and beer bars featuring six locations throughout the Phoenix area: four in Phoenix proper, one in Ahwatukee and one in Gilbert. While the physical space at Whining Pig is often diminutive, they make up for it in a big exciting beverage program and nostalgic hipness.
What to Expect:
Whining Pig generally features upwards of 36 taps of really exciting, different, unique beers. I've been to at least two of the locations and at each, the taps featured an eclectic mix of locals (Helton, The Shop) as well as favored nationals (Ninkasi, Clown Shoes). Additionally, they sell even more beers by the bottle. You won't find "big beer" here (no Miller, no Coors, no Bud), but you might find an occasional Blue Moon or Hop Shock in bottles. [If you come to Whining Pig looking for Coors Light, you really don't belong here] The beer menu is always written on massive chalkboards mounted all around the bar. It's color coded by style to give you extra info about the selections. There is always something for everyone's tastes, from sours to stouts and everything in between. In addition to the beer, they also serve a healthy array of wines.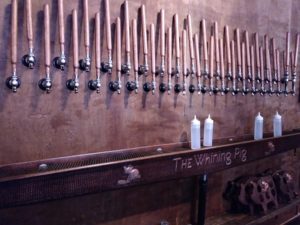 Of interest are their daily specials.
>For $3, you can score a "beer in a brown bag"—one beer, in a bottle, served in a brown paper bag. The trick is…it's bartender's choice. Other, less anonymous specials also go for $3.
>Mystery Wine: Bartender's choice, one glass for $5. Although not a mystery, wine flights go for $10.
>Happy Hour generally knocks off $2 from any beer (draft of bottled). Speaking of Happy Hour, The Whining Pig features one of the most generous happy hours I've encountered in the valley: 1p – 8p at all locations, except Bethany Home and Arcadia (these locales only open at 3p, so learn to deal!)
The Whining Pig does serve food, but on a very limited menu. Mostly, the food service is comprised of grilled cheese sandwiches and chartreuse boards, but from what I've seen, it's highly elevated grilled cheese and chartreuse. It's just enough to get some food in you and pair with what you are drinking.
As noted above, there's not a lot of space at Whining Pig to spread out. The seating is often limited to stools at the bar or a few high-top community tables. Downtown and Desert Ridge do feature a few couch seats that could accommodate maybe four people, but that's it. No booths here.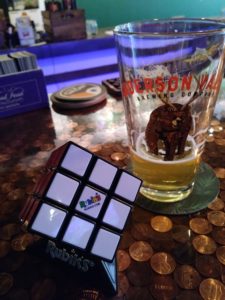 The seeming lack of privacy actually fosters something else—community. The seating kind of forces you to interact with others and take notice of what's going on around you. Added to the mix is a terrific selection of nostalgic 1970s/1980s table games—both board games and early 16-bit video games. I spent one visit unscrambling a Rubik's cube and another playing Missile Command on an iPad. Depending on the location, you may find Yahtzee, Rock-'em Sock-'em Robots, or Simon. Topping things off? Limited TVs. I think the Bethany Home location has one and Desert Ridge has two, tucked away in corners.  The others? Not so sure. It kind of forces you to interact with, you know, people.
The growth of Whining Pig in Phoenix the last few years tells me there is a real need for this kind of approach to the "bar scene." The typical 'music so loud you have to shout' type club is losing its appeal. Sure, the growth of the craft beer industry in general requires more outlets to sustain it, but Whining Pig's approach seems to celebrate not just the beer, but the experience of grabbing a drink with others. The nostalgia element appeals to those like me pushing 50, but it also attracts the young'uns (I don't want to say 'millennials,') who understand the value of a good card game. Whining Pig is not the place you go to have a 'quiet drink.' But rather than the bombast of a club, at Whining Pig you might have a blast with your new best friends—talking, laughing, discovering your new favorite beer.
Phoenix:
Desert Ridge (Tatum/101; underground, east of Dave and Buster's)
Bethany Home Road & 16th Street
Arcadia-Indian School Road & 38th Street, north side
Downtown-2nd Street, just south of Washington
Elsewhere:
Gilbert, Val Vista Drive, south of Williams Field
Ahwatukee, 50th Street, north of Ray, just west of I-10