One of the great outcomes of the craft brewing industry (aside from saving beer) is the way local brew houses are transforming cities. Breweries have revived once forgotten neighborhoods, turning city districts on the edge of blight into bright, bustling centers of community. Dilapidated buildings have been re-purposed as taprooms giving residents new meeting places. [See Beer Advocate, August 2017, pp. 58 - 66.]
Downtown Mesa is one such community that seemed on the brink of failure the last few decades. As a teenager, I would catch a movie at the downtown dollar theater and then grab a bite a Cristal's German deli. Over time, those establishments closed. Then, the Brown and Brown car dealership left its location on Main leaving a (still lingering) empty lot. City lawmakers attempted to revive the city core through the arts center, which was only a partial success. Few restaurants took a chance on opening near the arts center, so Mesa didn't become a "night on the town" destination like downtown Phoenix has become. The city sought to grow again by courting Benedictine University and while the school still occupies its location in east downtown, its small enrollment doesn't quite qualify Mesa as a "college town."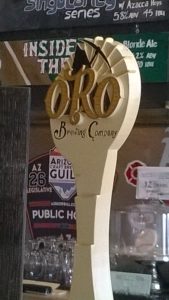 In 2012, the historic west side of downtown Mesa got a boost when Desert Eagle Brewery opened. The 100 block of West Main soon saw a new coffee shop, comic/music store, salon and more, giving residents more of a reason to return to downtown…and linger. Now, Oro Brewing Company adds a second and much needed new brewery/taproom/destination to the area.
Oro Brewing Company was founded in 2016 and is already showing signs of how powerful and communal a brewery/taproom can be. I visited Oro on a non-descript Monday afternoon last February. In the short time I was there, seven different patrons came through the door. At least two of them knew the bartenders by name. One person was actively blogging about their beer on Untappd. Three people ordered food service from Worth Takeaway next door.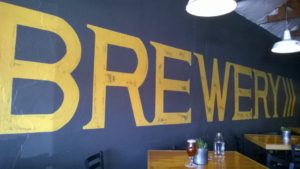 Two weeks later, I found myself in downtown Mesa on a Friday night. It happened to be the same weekend that Mesa was hosting a motorcycle rally. I tried to slide into Oro that night but found the place to be standing room only—inside and outside. Mind you…the rally was taking place two full blocks away.
A few days later, the taproom was nearly filled to capacity at lunchtime, with a group of seven ladies holding a gathering at a large communal table near the front and the bar seeing a steady stream of visitors. Worth Takeaway made three deliveries to the brewery in an hour, one of them being to yours truly. All three visits were powerful reminders of the communal benefits of beer and brewing.
What to Expect
Oro's taproom is a humble affair, with a long bar and simple furnishings. There's a single large community table facing the storefront window, multiple high-top tables here and there and a small fenced patio area out front facing Main Street. The brewery itself is through the door in the back of the room. T-shirts and hats, populate several shelves near the restrooms.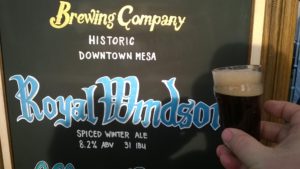 The simplicity of the taproom belies the complexity of their beers, however. The Royal Windsor, which I first sampled at the 2018 Strong Beer Festival, was a wonderfully warm and complex spiced ale. [I blew the keg during my visit to the brewery, so you'll have to wait until next year to sample it.]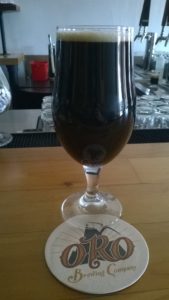 The Frihoff Stout, an oatmeal milk stout, gives off a subtle sweet finish while the Give Peat a Chance peat smoked Extra Stout was wonderfully roasty without being too dry. There is only a hint of aroma to the Peat, but most of the flavor comes long after you taste it. The Boot the Brits IPA was easy drinking, but a bit too dank for my taste. Everyone around me was raving about the single hopped Singularity. On separate visits, I sampled both the Azacca hop Singularity and the Citra version--both good. Their Alt(bi)er Ego is a great representation of the altbier style. For a young brewery, they are in full production mode, offering up to nine house styles, along with a few guest taps. Options are not a problem.

Oro partners with Worth Takeaway sandwich shop, which is a few doors to the west of Oro. Place an order at the brewery and Worth will deliver to your table a few minutes later. For some reason, I can't stop eating their Italian Grinder.
On Monday nights, they offer a "Super Supper" dinner special. [Past menu options have included meatloaf, brisket tacos and patty melts.] Oro also supports Cider Corps, a cider taproom, a short stone's throw from Oro's front door.
Recent Visits by Arizona Beer Traveler
February 2018
March 2018
Location
210 W. Main Street
Mesa, AZ