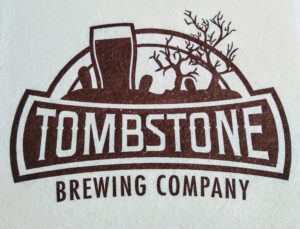 Tombstone Brewing Company has garnered a significant reputation for producing great beer seemingly overnight. They've been in operation only three years, but time and again, I hear people rave about their beer. In fact, after only three months of brewing, they nearly cracked Untappd's Top 50 Breweries list.
So successful has Tombstone Brewing been since their inception in April 2016 (they didn't start brewing until November 2016), their waiting list for distribution has grown to over 1000 clients. That's 1000 beer bars, restaurants, Quick-E Marts and so forth that are waiting to be added to the list to be able to get their beer. As of March 2019, Tombstone can only service 110 clients around the state. And that's with Tombstone brewing as fast as they can. If you find Tombstone beer at your favorite brewpub, know that the brewpub you are in is very lucky.
So, in March 2019, I made plans to pilgrimage to "the town too tough to die" and grab a cold one. I intended to stay overnight. Tombstone is just too far from Phoenix (and Tucson for that matter) to make a "pop-in, pop-out" visit. Gotta be smart; if you visit, plan to spend the night.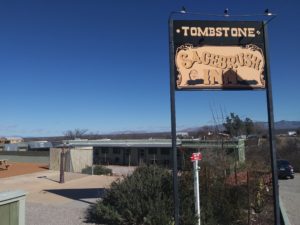 My first stop upon arriving in Tombstone was getting my lodging set. My plan was to get my room keys and head out into town on foot. Tombstone is small--easy walking distance. I lodged at the Sagebrush Inn, about two blocks north of the main drag and four blocks from the brewery. There are no chain hotels in Tombstone, which might give some folks pause, but Sagebrush was perfectly fine.
I headed to Tombstone Brewing around 4pm. Tombstone closes at 7pm each day, so that left me with three precious hours to sample their wares.
The building itself is remarkably simple. Barely two stories, sheet metal sides and roof. The front reminds one of the old livery buildings that adorn most western art. Word is, the building used to be Tombstone's city hall.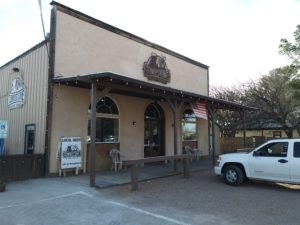 The inside of the taproom is quite simple, with wood furnishings seemingly assembled from spare 2x4s. The wall art is a unique mix. There's a picture of a jackrabbit enjoying a beer, a collection of Arizona Police Badges, and a really big ironwork logo.
Behind the bar, which seats maybe 12 people, is an enormous mirror, befitting a western town bar.
The taproom shares the space with the brewing floor. A lot of Arizona breweries do this--put tables right next to the brewing equipment. Due to limited space, you pretty much have to. But, it never gets old, seeing the fermenters and brew kettles up close.
Although there's a lot going on, it never feels too cramped or crowed. There's patio space out back and on the side but on this visit, I stayed close to the bar.
On to the beer. In most cases, it was good. Very good. In one case, it was glorious.
I started with All the Hops which is just like it sounds: a brew made of all the hops they had on hand. Strange as it sounds, it works. As you might imagine, there wasn't one specific flavor or aroma that stood out. Just a wonderfully gooey brew.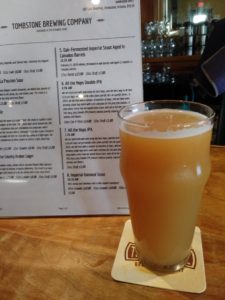 Next, I tried the Dank Fruit IPA. I traditionally don't like dankness. I give it a try every now and then. I just don't get excited by the flavor profile in general. Same with Tombstone. Dank is dank. This did not do much for me.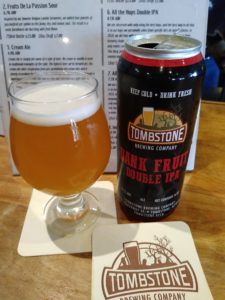 Juicy IPAs and hoppy beers seem to be Tombstone's wheelhouse. So much of what they do revolves around IPAs and bright, hoppy flavors. So, I opted to go the opposite direction and taste their Imperial Stout. They were serving both a traditional brew and one aged in Calvados/brandy barrels. I went with the barrel aged, and I'm glad I did. This…was…unbelievable.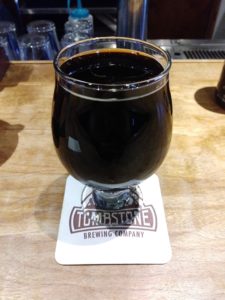 If visiting Tombstone Brewing is a required pilgrimage, consider the Calvados Stout as Mecca. Or Nirvana. Or Heaven. At 10.5% ABV, it's fairly mild in terms of the alcohol, but the flavor comes across as a roasty dark sweet molasses. Or maybe if a bunch of prunes went on a bender of brandy and cognac and fell into a stout wort. Either way. This was dynamite. I should have taken a bottle home and aged it further. And Tombstone would let you.
In addition to the taps in the taproom, Tombstone cans a lot of their IPAs and fruit beers for you to take home, but they also bottle their more intense brews. If you visit, check the list in the taproom of what they have aging in bottles. You might find them on display around the brewery.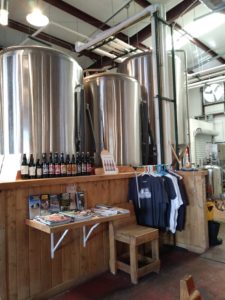 I'm lucky enough to be close to TWO establishments in Phoenix that have a coveted place on Tombstone's client list: LoveCraft and Growler USA. Since my journey south, I've imbibed multiple other Tombstone brews: Snoozberry (a raspberry Berliner-Weisse, super tart) and Another Exercise in Mediocrity (a DIPA, not boozy at all, highly drinkable), and Southern Hemisphere.
In addition, a third outlet, Craft Beer Quick Stop, stocks cans of Tombstone and I've been able to enjoy four-packs of their Citra and Mosaic IPAs, the Pils and the curiously named All the People will be Checked The Handbag. The Citra is the clear winner in my book, but just about everything I've tried is enjoyable.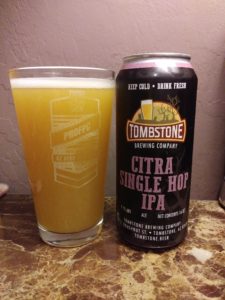 When people ask me "Where's the best place to get a beer?" or "What's the best brewery right now?" I have a tough time deciding between responding "Arizona Wilderness" or "The Shop." After an in-person visit to Tombstone, I am very tempted to replace both of my standard answers with "Tombstone." At the very least, I'm now torn between the three of them.
Visits by Arizona Beer Traveler
August 2019
May 2019
March 2019
Location
107 E. Toughnut
Tombstone, AZ 85638
---
UPDATE: 9/4/19
Since my original visit, I've been back to Tombstone twice more. The building and taproom themselves haven't changed, but the beer continues to impress.
Tombstone really leans toward IPA styles. Most of what I've seen lately all dance around a similar theme: strong, fruity IPAs. I've had Another Exercise in Mediocrity and All the People...the Handbag multiple times and they are really good hazy-ish strong IPAs. I do believe their Chasing the Dragon is their best beer overall but I hear Weedy keeps tinkering with it.
The only beer from Tombstone I really haven't liked was their Session IPA. It had a divergent profile--fresh cut grass--that was not really my thing. In August 2019, Tombstone created a series of Russian Imperial Stouts, aged in various barrels (bourbon, vanilla, maple). Really good.
You almost can't go wrong with Tombstone.