In life, change is inevitable. In Las Vegas, this is doubly so.
I travel to Las Vegas pretty regularly for various conventions and the occasional weekend getaway. Every visit, I am greeted with new restaurants, new shows, new things to do. Sometimes, all this "new" comes at the price of losing old favorites. For beer lovers/beer travelers, a particularly painful recent loss was The Pub at Monte Carlo.
The Pub was a beer-lover's dream, with around 350 – 400 offerings via tap or bottle. Tucked away in the shopping district of the Monte Carlo, The Pub was one of the establishments essential to my earliest beer education. On my visits, I would sample styles and breweries not readily available in Arizona. The Pub's decor was distinctive, with glowing kegs rising to the ceiling from behind the bar. Gordon Ramsay's Pub in Caesar's tries to duplicate this, but Monte Carlo's Pub display was far more impressive.
Alas, MGM's tinkering with the area between New York New York and the Monte Carlo has resulted in a second popular Vegas pedestrian mall, but also a re-branding of the Monte Carlo as the "MGM Park." With all those changes, The Pub closed in October 2016.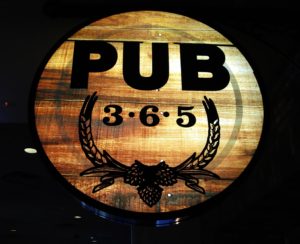 The good news is that Vegas now has a worthy successor to The Pub and it is in perhaps the unlikeliest of places. Pub 365 is a new beer bar/gastropub that has opened in the Tuscany Suites and Casino, on Flamingo Ave., about 1/2 mile east of the strip in Vegas. Tuscany clearly wants to be a "player" in the Las Vegas beer scene as they perhaps see the loss of The Pub as an opportunity.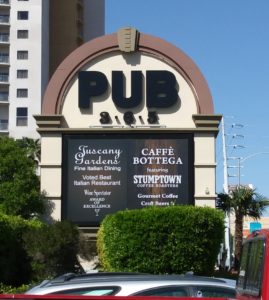 Tuscany has obviously invested significant cash in helping you find Pub 365 as evidenced by the enormous signage on Flamingo. Pub 365's actual location is also mere steps just inside the valet entrance. Tuscany does have multiple entrances–one for the main hotel registration desk and a second much larger entrance at the valet which leads into the casino. Once inside, Pub 365's sign is the largest thing in the room if you can believe it. Easy to find.
Pub 365 derives its name from their goal of offering 365 different beers to choose from. They have 40 selections on tap and the rest are bottled. They also offer a limited menu of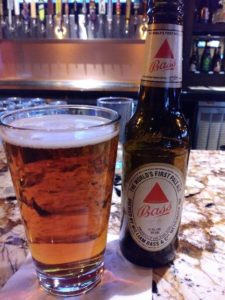 'extreme reserve' bottles. This is Vegas after all, so prices for these run from $50 to $500 and more. I opted for a Founders Rubaeus, Bass Pale Ale, Einbecker Mai-Ur-Bock and Batista Chocolate Quad. [Yes, I took an Uber.]
The space itself at Pub 365 is not as large as The Pub was, but it is bigger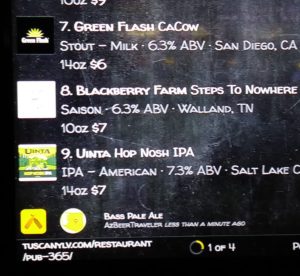 than most. The bar seats around 20 comfortably and there are standard tables throughout the rest of the pub. It can accommodate a very large crowd. Other touches are intriguing as well, such as the menu screens that interface with the Untappd app. Running along the bottom of the menu screens, you can see a crawl of Untappd users who have posted about Pub 365.
I visited Pub 365 on a Monday night and they were doing brisk business, although it came in waves. Pub 365 obviously has regular clientele already as the barkeeps knew quite a few of the patrons by name as they arrived. There was an amazing mixture of people that visited while I was there: a group of young guys, several couples, a group of older men, a biker.
They have a small menu of 'pub grub' that features a mix of burgers and Mexican-inspired small plates. I had a side of fries which were among the best I've had. Seriously.
The wide selections at Pub 365 make them a worthy successor to The Pub and great addition to the beer scene in Las Vegas.
Prost!