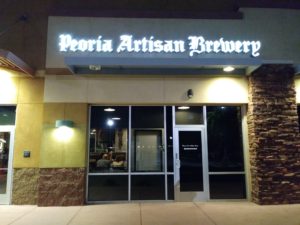 One of the "occupational hazards" of maintaining this blog is 'beer fatigue.' I know, I know. Hard to believe, but it happens.
I distinctly recall being completely tired of beer on day 2 of the Flagstaff Ale Trail. My wife will often look at me quizzically when I order iced tea at dinner instead of a beer. Sometimes you just need something else. Fatigue manifests itself on this blog by slow publishing times and long waits between new material. I have a long list of breweries I have visited that I want to write reviews/profiles about but am so worn out from thinking of new ways to describe beer, I can't forge the words. Longer is the list of breweries that I haven't visited yet and want to.
Then, along comes a moment that energizes you once again, shows you something exciting, and makes me rush to the laptop. For this latest burst of energy, I must thank Peoria Artisan Brewery.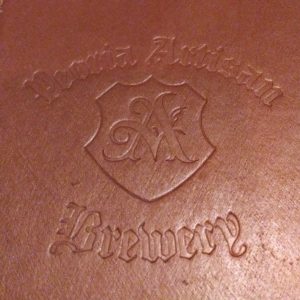 Peoria Artisan Brewery is found in a small corner of a sizable strip mall/shopping center at the intersection of Lake Pleasant Parkway and Lake Pleasant Road in the far northwest valley. It's sandwiched between the Loop 101 and the 303, which is to say it's pretty far from most everywhere.
Equally suspect—the shopping center they call home—Camino a' Lago—is somewhat unfinished. As in, not built. Giant undeveloped lots fill the southern section of the property. There are perhaps 500+ parking spaces adjacent to…nothing. My guess is that the builder went belly up mid-project. Thankfully, Peoria Artisan's building is complete. I'm sure Dairy Queen next door feels fortunate too because they have 500 parking spaces all to themselves.
But while distance may seem prohibitive, Peoria Artisan's beer and food make them a destination worth seeking out. Especially the food. I had the chance to visit on a non-descript Thursday evening recently and experienced some of the best pub food I've had in a long time. The beer was solid too. I sampled four beers and to borrow a baseball reference, Peoria 'hit for the cycle.' There was a single, a double, a triple, and a home run. I'm talking enjoyment factor, not beer style as in "dubbel" or "tripel."
[That's beer humor, by the way.]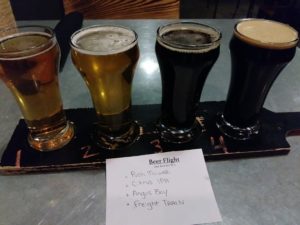 Peoria regularly features 10-12 house brews along with a few guest taps. On my visit, there were 10 brews on tap with a Porter and a Holiday beer on deck in the fermentor. For my sampling flight, I ordered a Blonde, an IPA, a Scotch Ale, and an English Stout. Here's the 'scorecard':
The Single – "Push Mower" Blonde. Decent color and aroma, but turned bitter on the finish. I can handle bitter beer when it is supposed to be bitter, but in this case, it didn't accentuate the flavor.
The Double – "Freight Train" English Stout. A bit thin on the mouthfeel, but good roasty notes on the finish.
The Triple – "Citrus" IPA. Maybe it helped that I was eating spicy chicken wings at the time, but this IPA was silky smooth and flavorful. Reminded me of a Saint Archer Citra 7 IPA.
The Home Run – "Angus Boy" Scotch Ale. Dark for a Scotch Ale but packed every bit of sweet malty goodness into each sip. Yum.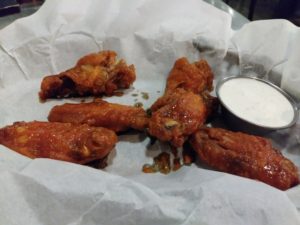 As noted above, the food was exceptional. I ordered a half dozen wings and the Shepard's Pie. The wings were double fried, giving them a nice crisp exterior. Kind of reminded me of wings you used to get at Native New Yorker years ago, before they cut their name to just "Native." The cooking technique also seemed to render the fat away as these were the leanest wings I had had for a very long time. Peoria only offers 'Buffalo,' 'Dry Rub', or 'Hot' flavors. I opted for the traditional Buffalo. Peoria's Buffalo evidently leans very hot as these were quite spicy. Good thing I had the IPA on hand.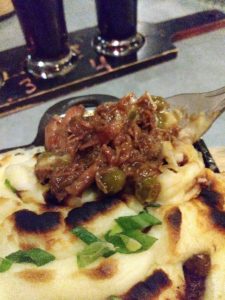 The Shepard's Pie was among the best I've had in the valley, and I've eaten a LOT of Shepard's Pie. I ordered it intending to ask for more gravy eventually. Didn't need it. The meat base was a short rib stew that had seemingly been marinating for multiple days. It was so flavorful and savory. The potatoes were whipped smooth which gave the short rib and gravy creamy overtones. I tend to like my mashed potatoes a little chunky, but the resultant creaminess made me forget that.
While I only had these two dishes on this visit, I was sitting right next to the kitchen and could spy all the food as it made its way to diners. The burgers, the salads, even the fries looked heavenly. Based on the empty plates people were leaving behind, everyone agrees. It's the bomb.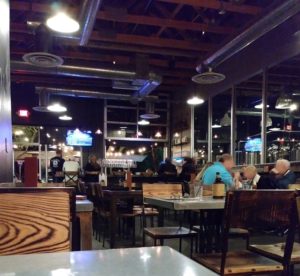 Peoria Artisan Brewery has two dining areas—the main room and a patio area. The main room is comprised of perhaps a dozen standard four-seater tables (which can be combined into larger/community seating), a few high-top tables near the entryway, a few tables with bench seating (where I was) and a small bar with seven-to-eight seats. Peoria's brewing operation takes place on site and can be seen from the main dining room, through enormous windows running the length of the room. Special thanks to Mike (aka, "Black Beard") for opening the brewery and letting me take a look around.
For the moment, Peoria Artisan Brewery is the northwestern-most brewery in the valley. It IS waaaay out west. But, seen from perhaps another perspective, it's the closest brewery to Lake Pleasant. A day at Lake Pleasant followed by dinner and a few cold ones at Peoria Artisan Brewery? That's a road trip worth taking.
---
Recent Visits by Arizona Beer Traveler:
November 2018
10144 W. Lake Pleasant Parkway
Peoria, AZ 85382
---