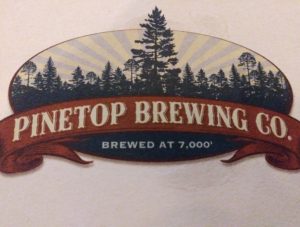 Pinetop/Lakeside was my family's #1 go-to weekend vacation spot when I was a kid growing up in Arizona. While my friends' families would head to Flagstaff or maybe Sedona or perhaps even Disneyland for their vacations, we would spend every available weekend in Pinetop. As I came to find out later, Pinetop/Lakeside was the preferred vacation spot for anyone who grew up in the Miami/Globe/Claypool part of Arizona, like my father. Pinetop was a short 90-minute drive from Globe and for hardened miners and tradesmen, like my grandfather, the open space and cool wind whipping through the pine trees at the edge of the Mogollon Rim must have seemed like heaven on earth. So, Pinetop just ran in my family.
Today, more people are discovering the White Mountains and Show Low and Pinetop/Lakeside. No longer is it merely a jumping off point for the Sunrise Ski area in winter. The cool weather in summer draws more and more people to its lakes for fishing, mountains for hiking, and porches for simply listening to the wind rush through the trees. It was only a matter of time, then, before the Show Low/Pinetop/Lakeside area would find itself with a craft brewery. Along came Pinetop Brewing Company.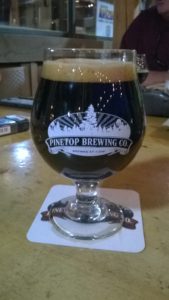 Pinetop Brewing Company (PBC) fills a desperate need in the White Mountains for eating establishments that are not fast food stops. When the vacationing populace of Pinetop is rushing from one place (Sunrise) to the next (the hotel room), there's little demand for a nice sit-down meal. But with the city growing in general, McDonald's for dinner will simply no longer do. PBC is one of perhaps half a dozen eateries that aspires to more than a quick sandwich and turning yesterday's leftovers into today's stew. While they do offer personal pizza and burgers, they also feature muscles, asian lettuce wraps and hummus. This has helped make PBC a wild success in the White Mountains.
When PBC originally opened, they shared their White Mountain Blvd. location with a BBQ joint. Sometime in 2015, the BBQ owners left the building and PBC assumed sole control of the kitchen (and dining room), hiring smart chefs who began to expand their menu. Now, they are successful enough and busy enough that they needed to expand their kitchen again.
To make room for growth, PBC moved the brewing operations a 1/2 mile down the road. Bailey, one of PBC's servers, tells me that PBC will occasionally close early in the off-season, but a recent two-day visit over the 4th of July holiday revealed a consistently packed house, crowded parking lots, great food and greater brews.

What to Expect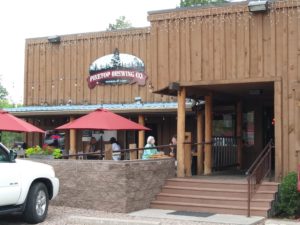 Pinetop Brewing Company features three seating areas: a patio, a bar room, and a dining room. The patio is at the front of the property. A wheelchair ramp runs through the middle of the space. Inside, the bar room features several high-top tables as well as the bar which seats a small number of patrons. The dining room is much bigger and can seat several dozen visitors. The restaurant's interior is finished with bright pine, so it feels like you are walking into a newly constructed log cabin of sorts.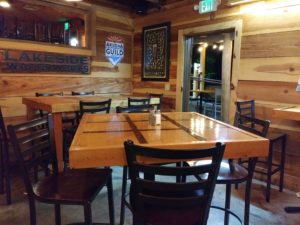 PBC brews 13 flagship beers, but every time I have visited, I've been told at least three or four are "out." This was the case on my most recent visit. Perhaps that is a sign that supply can not keep up with the demand.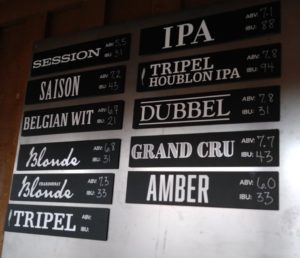 On that note, on weekends during the summer, expect PBC to be very crowded. Friday nights through Sunday lunchtime, the restaurant has a steady flow of hungry and thirsty customers. Late Sunday and through the week, getting a table seems relatively easy as weekenders have returned to the valley.
Nearly all of PBC's beers are served in a stemmed tulip glass. Everything. The Blondes, the Ambers, the Dubbels. This perhaps reflects their desire to be known as a "Belgian Microbrewery." However, I recently was served a session beer in a stemmed tulip glass on one day, and in a shaker pint the next.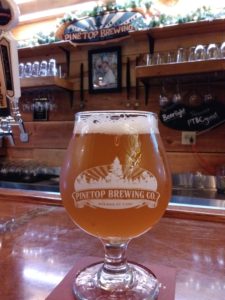 I find most all of the beers at PBC are flavorful (Abbot, Dubbel, Session and Grand Cru are all exceptional) and PBC has a growing trophy case of awards won at the annual Strong Beer Festival. [PBC has medaled every year for the last three years.] However, their beers do seem to share a similar Belgian malt profile. One of my drinking acquaintances claims this is due to the use of malt extracts, rather than following a traditional malting process in the brewing of the beer. Without having seen PBC's brewing process, I have no proof of that. But, I have noticed the law of diminishing returns when I have visited PBC. After the second go-round, the beers do start to taste the same.
To break things up, try one of their guest taps. PBC is now brewing a wider diversity of beers, including a Belgian Wit and Triple IPA which provide needed variety in the beer menu. Bottom line, having visited PBC regularly over the last three years, it is safe to say that their beers are only getting better.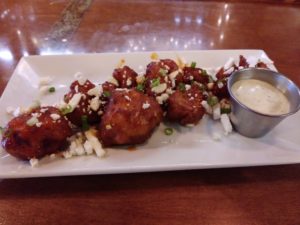 In terms of the food, the menu delivers a similar level of excitement. The wings are quite good and "sticky" as advertised. The sandwiches are all decent and can be described as "elevated pub grub" (certainly much better than most offerings in Pinetop/Lakeside). The veggie wings are cauliflower buds dipped and fried and glazed in buffalo sauce...and they are great. Who knew? The asian lettuce wraps were way too spicy for my taste, but I was informed that you can ask that the sriracha sauce be put on the side, instead of being integrated into the dish.
Suggested Itinerary
If you are in Pinetop/Lakeside on the weekend, get to PBC by 4:30p. If you can't get a table, you can try Moose Henri's, down Highway 260 about 2 miles, or Matty's Beef and Beer, about two miles the other direction. They don't brew beer at Moose's or Matty's but they have upwards of 24 taps at Moose's and 5 or 6 rotating taps at Matty's.

Recent Visits by Arizona Beer Traveler:
Summer 2019
Summer 2018
Summer 2017
Summer 2016
Location
159 W. White Mountain Blvd
Pinetop, Arizona