---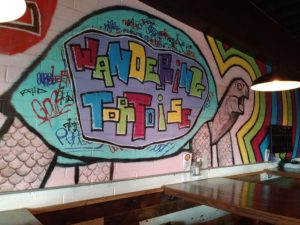 The Wandering Tortoise is a bottle shop and taproom located near the southeast corner of Indian School Road and 24th Street. It's not quite right on the corner (there's a Circle K there), but hey, why are you complaining? There's beer here.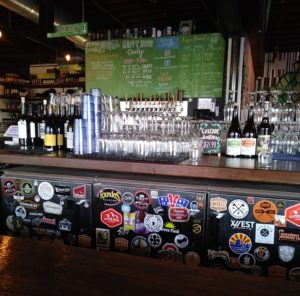 Offbeat, quirky and artistically funky seems to be the unofficial rule here. The taproom's decor features brightly colored hand-painted murals and reclaimed wood paneling surrounding the central bar. The tap menu follows suit as they seem to regularly feature the more…experimental brews of local and hip breweries. On my last visit, there was some wild stuff on tap (and I'm not talking about the AZ Wilderness Watermelon Gose). The most traditional beer they had on tap was likely Hanger 24's Double Betty and maybe Pedal Haus' Light Lager (accompanied by a sign that read "It's delicious – shut up."). Wandering Tortoise also offers Hamm's (HAMM'S!) on tap. Fitting, given that a whole wall (the one leading to the restrooms) is decorated with the Hamm's logo. Write your own joke here.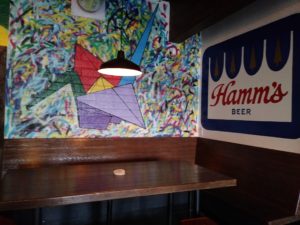 Most small pours here are a very reasonable $3. The very generous happy hour (until 7:30p) knocks that price down to $2.50. If you are a sampler like me, that's incentive to grab a table, spread out and stay a while. It is not uncommon to see tables turned into work spaces, with laptops open and spreadsheets spread. There's no kitchen or food service at The Wandering Tortoise, but they maintain a healthy food truck rotation.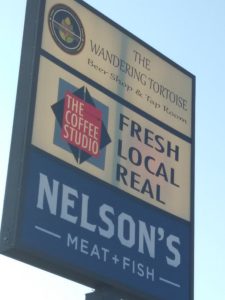 The one downside to all this quirkiness is the parking. Wandering Tortoise shares a parking lot (a very small parking lot) with their neighbor, a butcher shop. There are only, maybe, ten regular stalls between them both, with a disabled slot near the door. So, parking is a challenge. They readily recognize this and their website contains a section dedicated to helping you find alternatives. Mostly, they encourage you to park along Amelia Ave., one block behind the building. Admittedly, that's kind of a pain. There is also some parking at Mountain View Plaza, on the west side of 24th Street.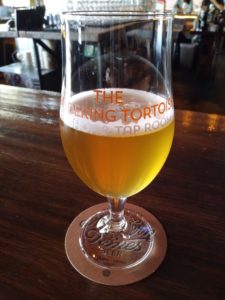 Indian School Road from the 51 freeway heading east to 48th Street and the Arcadia district is one of the most unique and, dare I say, exciting gustatory stretches of road in Phoenix. It is a mere 3.5 miles, but contained therein are the following: OHSO, Doughbird, SIP Coffee and Beer Garage, Whining Pig, Beckett's Table, Over Easy, The Vig, Crudo, Frasher's Smokehouse, Old Heidelberg Bakery, and on the western end, Helton's Brewing.
Wandering Tortoise seems right at home.