Pre-amble: I want to like Black Bridge, I want to like Black Bridge, I want to like Black Bridge. *Sigh*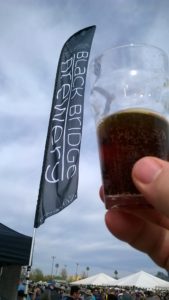 I was introduced to Black Bridge Brewery, based in Kingman, Arizona, at the 2018 Strong Beer Festival. I hadn't planned to visit their tent, but found myself in their neighborhood at the festival and when I saw they had a Wee Heavy on hand, I gave them a try. Three samples later, I was singing their praises. I discovered they had received good press since their opening and couldn't wait to make a visit in person.
My opportunity came this month when a business trip took me from Phoenix through Kingman to Las Vegas. Like many people, I typically go through Kingman on my way to somewhere else. But on my return trip to Phoenix, I made a point to check out the brewery. I found the historic downtown area engaging and Black Bridge itself abuzz with activity from the locals.
Unfortunately, there was no sign of the beers I had enjoyed at the Strong Festival and the beers I tasted that day were lacking.
During my visit, I had three samples: the Blood Orange Wheat,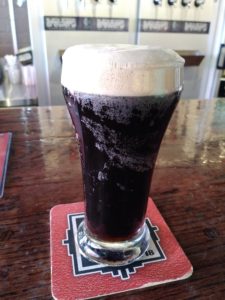 the Monolith Pale Ale, and the 66 Porter. All three were low ABV beers. The Blood Orange lacked carbonation and was somewhat slick and sweet, perhaps indicating they used blood orange syrup as opposed to orange peels and other fruit adjuncts. The Pale Ale lacked hoppiness and tasted watered down. The saving grace here was the 66 Porter which was a blend of coffee, Irish Red, Chocolate Porter, and a Scotch Ale. That was the best of what I sampled that day. But the lack of proper attention to the parameters of styles is a bit concerning. Perhaps most telling were the two gentlemen at the bar to my right. They were both drinking bottled beer whose name rhymed with "Killer Fight."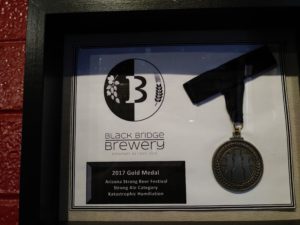 In my general synopsis of Black Bridge, elsewhere on this site, I remind readers that Black Bridge is a highly decorated brewery, having won multiple awards for their brews the last few years. And they have generated some good press for their efforts. But on this day, it was not what I expected. Still, their solid track record, coupled with their ideal road trip/rest-stop locale warrants another try.
Postlude: NOTE TO THE BARTENDER: It is not wise to blame the customer for your inability to properly do your job.
[For context: When I arrived at Black Bridge, I noticed that three of the six seats at the bar were occupied. No biggie. I picked up a menu at a high-top table and gave it a quick scan. A few seconds later, I visited the restroom and returned shortly and took a seat at the end of the bar. The bartender was nowhere to be found. I waited…still no bartender. I soon realized that the bartender had taken a seat at the bar and was scanning her phone and giggling with another patron, presumably her 'bestie.' A moment later, an individual–presumably an owner or supervisor–came around the bar, noticed me and asked, "Do you want a beer?" I nodded affirmatively, whereupon he shouted to the bartender at nearly full volume, "Hey! You have a customer!" Remember, there are only six seats at this bar. Thus began the bartender's ranting and raving that it was my fault that I went to the high-top table first and then disappeared and that if I had returned to the high-top instead of sitting at the bar, she would have noticed me sooner. Yeah…we'll go with that.]