The Arizona Craft Brewers Guild held their annual Strong Beer Festival Saturday, February 10 at Steele Indian School Park in Phoenix. Here, in no particular order, are a few "toasts" and observations on the day.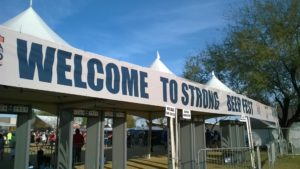 1. Top Beer: Borderlands Imperial Porter German Chocolate Cake. This beer was only somewhat on my radar when the day started, but when the Ballast Point line grew to over a 15 minute wait, I headed to the Borderlands tent (not hard since it was next door). I was very glad I did. Their Imperial version of the German Chocolate Porter was outstanding. Highly sweet, but containing all the flavors of German chocolate cake. I am generally skeptical when a beer tries to "taste like" something else, but this brew has done it.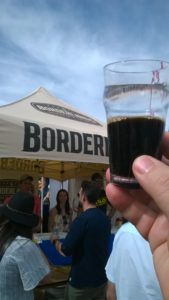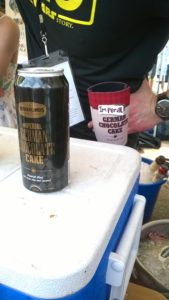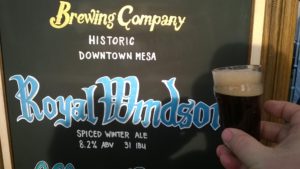 If I had to pick a runner up, it would be Oro Brewing's "Royal Windsor" Spiced Beer. This was the last beer I tasted on the day. I was curious to see how a beer without hops would taste. [Given the beer's description, I think this would be akin to a "gruit".] Highly malted and generally sweet, with mild hints of spice. They call it a Winter Ale, but I'll drink it again, winter or not!
2. Top Tent: Sierra Nevada. Kudos to Sierra Nevada for transforming their tents into an educational experience. Rather than simply setting up a single tent or multiple tents to provide shade over their taps, Sierra Nevada linked four tents together, requiring attendees to walk through them all to get to the taps. But more than that, along the way, attendees got to learn about Sierra Nevada's company history and get hands on with beer ingredients. Best part was the hop table, where short of diving into a pile of hops (ala Jim Koch), you could sort though dried hop leaves and bask in the aroma. The whole experience was kind of like standing in line at a Disneyland ride, except the ride was beer themed! I half expected there to be a gift shop at the end of the line, but instead of plush toys, they served beer. I opted for their "Hop Bullet DIPA" which was OK.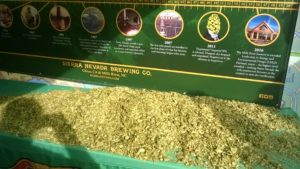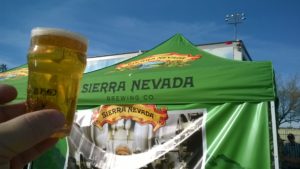 3. Top Disappointment: Missing The Shop Beer Company's "Bingo Bango Bongo." I can only blame myself on this one. The beer, a collaboration with Modern Times, is a major hit and it doesn't help that I didn't get to their tent (at the furthest point from the entrance) until about 4pm. Lines for The Shop were long the entire time I was in their zone. I love to see long lines for local breweries! When I got to the taps, I opted for the "African Single Hop Pale Wheat."
4. Best Surprise Brewery: Black Bridge, Kingman. These guys were nowhere on my agenda when the day started, but I ended up stopping at their tent when I learned they had brewed a Wee Heavy. I ended up tasting three different beers: the Wee Heavy, a "Belgian Porter", and their award-winner American Barleywine, called "Katastrophic Humiliation." All three were dynamite. Black Bridge has evidently been growing quite an underground following since their inception in 2013. Paste Magazine called them a "best damn beer" stop on Route 66 way back in 2014. Why am I just now discovering them? They are definitely on my radar now. Located in Kingman, they are the perfect "halfway to Vegas" pit stop.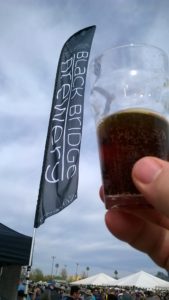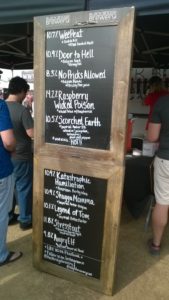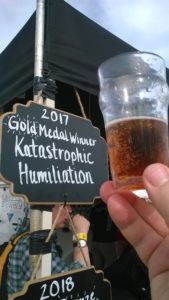 Thanks to the Arizona Craft Brewers Guild for another great festival!