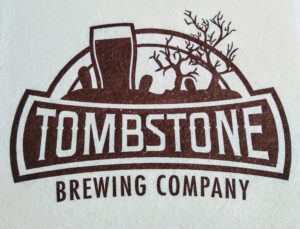 I found myself at Tombstone Brewing Company again over the Memorial Day weekend. It was my second visit in the last 10 weeks. Yeah, they are that good.
I was headed back to Phoenix from Bisbee and made a point to stop at Tombstone to pick up a four pack (or two). I didn't care what it was…I just wanted to pick up some of their beer. Four-packs of Tombstone in the valley are notoriously expensive and I figured I'd save a few bucks picking up something while I was in town.
It turns out, I struck gold.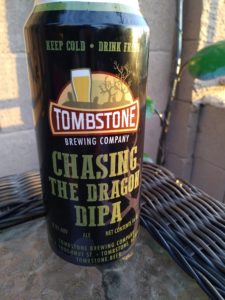 Among the inventory that day was their Chasing the Dragon DIPA. Tombstone doesn't carry all their beers at all times. You get what they got on hand, essentially. But, since I had never had their Chasing the Dragon before, I asked the server to describe it.
I was told that Chasing the Dragon was head brewer Weedy Weidenthal's attempt to create the perfect beer. Dragons are mythical creatures of course and don't actually exist. In the same way, the "perfect beer" is mythical too. Brewers may never be able to create the perfect beer, but Weedy keeps on trying—or chasing it as it were. And what is currently in the cans is Weedy's latest attempt.
Weedy can stop. I think he's done it.
When I returned to Phoenix later that day and got to pop open the first can, I was overwhelmed with beer Nirvana.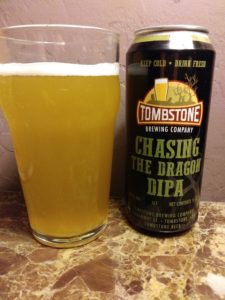 Chasing the Dragon is a hazy IPA—the beer style that just won't go away. Most hazy IPAs (or NEIPAs) lean tropical and Chasing is no different. It has a clear tropical flavor profile, but what I noticed is that the flavor stays consistent throughout each taste. It doesn't morph or come in waves. The front end is the same as the back end. It is a good, upfront flavor that doesn't overwhelm other elements of the experience. It's not too sweet and not underwhelming. It's…just right.
Other elements of the beer are spot on as well. Many NEIPAs tend to be a bit cloying and lean toward being syrupy (Desert Dolphins from Shop is a good example of this.). Not so with Chasing the Dragon. The mouthfeel is quite moderate—not thin and not syrupy. It almost seems 'crisp.' One notices a slight buzz on the tongue as you taste it too. That's a sign of balanced effervescence. Each swallow leaves your mouth clean and wanting more. And you will.
Officially, Chasing the Dragon is a DIPA, clocking in at 7.1%. That may seem mild, but having had two cans already, I can tell you that the buzz on your tongue can quickly travel to your head. The alcohol is hidden deceptively well behind all the other elements.
I rated Chasing the Dragon as "5.0" on Untappd. For me, that's a rare feat. To give you an idea of how rare that is…out of nearly 700 beers I've rated, I've granted a "5.0" to only FOUR other beers. Chasing makes it the 5th.
Prost!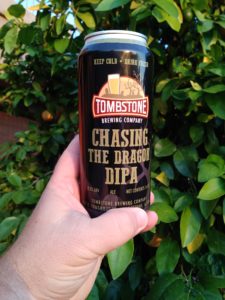 Side note: I arrived at Tombstone Brewing at 11am on a Monday, right after they opened for the day. By the time I stepped into the building, the entire bar was already full of thirsty patrons. Every seat was taken. Just another sign of Tombstone's runaway success at brewing world-class beer.
UPDATE: The day after I authored this post about Tombstone's Chasing the Dragon, I happened to find myself at Craft Beer Quick Stop, one of my favorite bottle shops in north Phoenix and saw this:
Guess which beer is flying off the shelves faster than the others?
Prost!