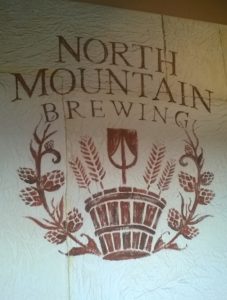 North Mountain Brewing, a favorite of this blog, gave free tours of its brewing operations during Arizona Beer Week and we were so there. Most visitors to North Mountain never see the brewing area, except if you peek through the windows behind the bar and kitchen. The fermenting tanks loom large in the background, but that's only a small glimpse into the work it takes to produce North Mountain's awesome brews. We participated in a tour on February 15th, led by Brewmaster Rob Berkner.  First stop was the malt room.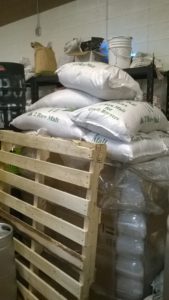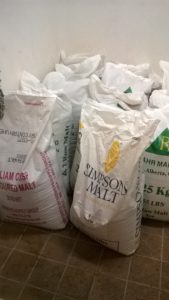 Sacks of malted barley were stacked on pallets near the delivery door, but in one smaller room several sacks had been placed aside. Rob explained that they were preparing to brew a new batch and the first step was to select the right mix of malts for the recipe. The room contained an auger that would simultaneously crack the malt and lift it to the mash tun. Upon opening the door to the room, we were greeted with a rush of musty malty air. Rob explained that the sacks of malt were highly pungent and we were smelling "the aroma of beer before it becomes beer."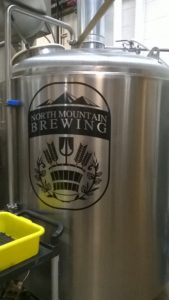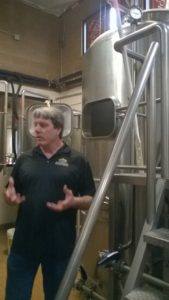 Next, Rob showed us the real workhorse of the brewery–the mash tun/lautering/brew kettle unit. The mash tun and lautering tank were actually one unit, stacked one on top of each other. Rob explained that the mash tun and lautering tank were connected directly to the brew kettle, making moving wort between units simpler. I was surprised to learn that North Mountain only had one brew kettle and one mash tun/lautering unit at that. To keep their 19 taps flowing, these units get a lot of use. Rob explained that "brew days"–when North Mountain is actually brewing their beer–run nearly 17 hours, from cleaning the units, to mashing, to lautering, to boiling/brewing, to another full cleaning. Currently, North Mountain brews about two days a week.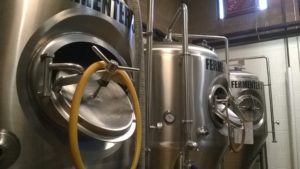 While North Mountain has only one brew kettle, they have eight fermentation tanks–four are ten barrel and the other four are twenty barrel. The larger units can fill up to 40 kegs–that's a lot of beer! The day I toured, they had two brews finishing fermentation. One was a lager and one was "a secret." Rob said he anticipated they would be finished and ready for the brewery's anniversary in March.
There were a few other brews aging in wooden casks, including their James Brown Boogie.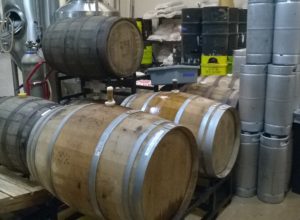 Thanks for opening the doors to the brewery, Rob! Keep brewing!
Prost!