I had the opportunity to make TWO events on Day 1 of Arizona Beer Week 2018.
Stop #1: O.H.S.O. Donut Day, 3pm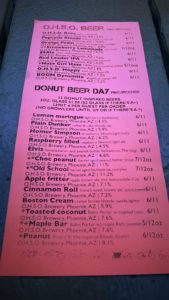 Stopped by O.H.S.O. in Paradise Valley for lunch and their "Donut Day." Chose their Lemon Meringue, Raspberry, Apple Fritter, and Toasted Coconut. All were delicious, except upon further research, I realized I chose two of the same donuts last year at "Donut Day!" Upon learning this I ordered a second round which included the Elvis and Boston Cream, both of which were good. Of all the beers, the Lemon Meringue and Elvis were likely my favorites.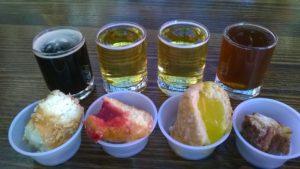 Over lunch, I ordered the "Snap Some Collars" from The Perch. Unfortunately, this beer was nothing like the description on the menu. It described as "juicy IPA, not bitter." I found it dry, bitter, and not juicy at all. I sent it back (sorry!). My server indicated they had just tapped it that day as part of their "AZ Beer Tap Takeover."
Stop #2: North Mountain Brewing, 5pm
I was curious to visit North Mountain on this day because of their listing on the Beer Week schedule indicated they were tapping their first Firkin cask ever. They evidently aged some NIB ("Nativity in Black, Imperial Stout) in a cask and were tapping it on the 8th at the brewery. To my delight, I learned that they laced their NIB with cherries.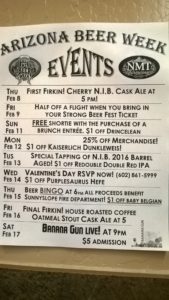 Although they didn't get around to actually tapping the keg until 5:30p, when they did, it was a show. Brewmaster Rob Berkner took his first swing at the keg's keystone and a shower of dark, foamy beer sprayed the entire bar service area. A second swing got the tap settled into place. Although the beer ran foamy for the first 15 minutes or so, the result of Rob's work was heavenly. I got to sample the beer and it was silky smooth, deep and sweet. Oh my! That's a good beer. I'm sure it was gone by the end of the night.
---
UPDATE Feb 15: On my tour of the North Mountain Brewery, I learned that this special cask of NIB came about by accident. Brewmaster Rob Berkner and his crew were experimenting and trying to sour a batch of NIB. After a few tries, they had 3 gallons of NIB leftover. They casked that, which became the firkin. Still hoping it would sour, the alcohol content of the NIB seemed to have the opposite effect, yielding a terrific sweet beer. A happy accident!
---
North Mountain will be at the Arizona Strong Beer Festival in booths 33 and 90. Be sure to get some Drincelean Ale when you are there!
Prost!