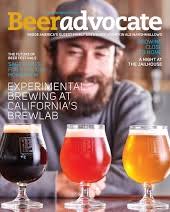 In the November 2017 edition of Beer Advocate, beer writer Andy Crouch lamented the rise of the 'hazy IPA,' blaming the style for nearly single-handedly dooming craft brewing. He wrote, "Our hyper-focus on this new style has rendered beer homogenous and even boring" and "They're a distraction from what makes craft brewing so remarkable." Along the way, he tries to re-educate anyone who enjoys the style, adding "the muddled, cloying mess in the glass hazed by hop particles, flour, or another unknown ingredient or process, isn't anything to celebrate."
Well, count me as someone whom Crouch would say needs a tutor, for I enjoy the style. In contrast to Crouch, I believe the style has encouraged creativity. Brewers who take the same essential ingredients and brew a hazy IPA are just as much artisans as those whose work results in a Black IPA, for instance. [I don't hear Crouch complaining about that style.]
Where I find myself in agreement with Crouch is that all hazy IPAs are not the same. Crouch tentatively offers "there's room for optimism" as he acknowledges that some hazy IPA are better crafted than others. He concedes "Some brewers show genuine dedication in their efforts to explore all of the nuances of this new style." Likewise, I too find some hazy IPA very well executed and others…not so much.
Here, then, is a short list/ranking of several hazy IPAs I've sampled over the past few months, many of them local to AZ. It is not intended to be comprehensive; just a reflection of some recently sampling of the style. My hope is that this list celebrates (yes, a deliberate choice of words) the best of the style AND offers a nudge to brewers whose take on the style needs…a nudge. (Numerical value in parentheses reflects my Untappd rating of the beer).
Let Me Have Another…Now
"Bingo Bango Bongo" – The Shop Beer Co./Modern Times (4.50) Two four-packs down and I'm still loving this. The pineapple forward, danky collaboration with Modern Times is smooth and refreshing. The dank quality is not too strong, in contrast to MT's Blazing World or La Cumbre's Dank Project where it is in-your-face-whoa. Rather, it is very subtle, resulting in an easy drinking, citrus-mellow brew. Get it before the run of cans is gone!
"New England IPA" – Sam Adams (4.00) One of the few national breweries I'm including here because although they probably represent the worst of Crouch's criticisms (for money grabbing, probably), the results are hard to deny. This is delicious. Bright orange citrus on the nose, not overpowering mouthfeel, and a fair orange/bitter balance on the back end. Poured into a large snifter, the color and head rival the three brews pictured on Beer Advocate's November 2017 issue, the same one where Crouch's column first appeared. Ha!
"Lucy's Rich Winter Zesty IPA" – Barnstar Brewing (no rating) Admittedly, I've only had this once and I'm sure it's a winter seasonal brew for Barnstar, but this lemon-forward hazy IPA is terrific. Imagine a pallet of lemon Icees melted into your wort and to it, you added a dash of pineapple juice, orange juice and hops. Fantastic.
Let Me Think About It
"WWJD" – McFate (4.00) Careful readers might question why I've put McFate's WWJD lower than the Sam Adams NEIPA despite both being rated the same. In a word, diminishing returns. I've sampled this many, many times over the past few months and on first taste, I was tempted to rate this as a rare 5.0. Initial word on the street was that McFate was burning through full kegs of this daily. Bright and sweet, but not cloying or overdone, mild tropical flavor. Just a hint of dry on the back. But over time…not so much. My last taste in early May was not good. Bitter and musty to the point of unpleasant, with none of the flavor I had enjoyed previously. I highly doubt we're talking tap line problems, so I'm just a bit skeptical. On a perfect day, yes, pour me another.
"Voodoo Ranger Juicy Haze IPA" – New Belgium (3.50) This has a great aroma and good appearance, but it finished too sour for my tastes.
"Toole Ave." – Borderlands (3.50) Not really orange/citrusy enough to be really enjoyable and not bitter enough to put down. It did mellow with some time…and pickles.
Eh…Let me Look at the Menu
"Orange You Glad it's Hazy" – Huss (3.25) Mild orange flavor at most. It's not even hazy.
"K-Lax" – 12 West (3.00) This reminded me of Toole Ave from Borderlands, not really strong on either citrus or hop flavor. Overall, seemed watery.
"(New) English Bulldog, Hazy" – Uncle Bear's (2.75) It's hard to believe they call this a NEIPA because it is crystal clear. Smelled like perfume.