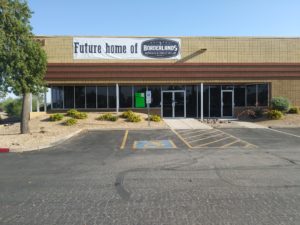 It's been almost one month since we first noted Borderlands is opening an outpost in north Phoenix, on the southwest corner of Deer Valley and 7th Ave., across from Deer Valley Airport. After a few weeks of nothin'-doing, the site is suddenly alive with activity.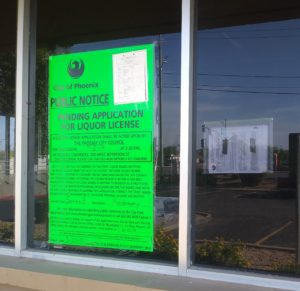 In addition to the liquor license notice posted conspicuously in the front window, the interior space is starting to get some framing. It's hard to tell exactly what's what, but the most curious feature at the moment is the large hole in the floor, placed front-and-center in what will eventually become the entryway. To the left of the hole is a trench that runs all the way to the back of the building.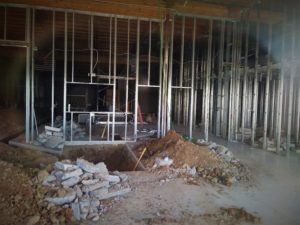 My first thought was it's some kind of plumbing feature—beer fountain maybe? [Hey, I can dream, right?] Perhaps it will be plumbing for the bar. It appears there is a service window or maybe tap space right above and behind the mystery hole.
This new Borderlands location was announced last March, but at the time, Borderlands anticipated opening by mid-May. Given that construction/remodeling didn't begin until late May (and the liquor license won't be granted until at least July), we might have to wait a little bit longer for that first pint of German Chocolate Cake Porter. But that's okay…it's worth the wait!
Prost!