The latest in an occasional series highlighting the best single beer from various Arizona breweries.
---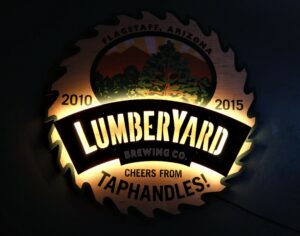 Whenever I am in Flagstaff, I always seem to end up at Lumberyard Brewing Company for lunch. I don't know why…it just happens.
To be honest, it may be because when I'm on the beer trail, I know I need to eat, and Lumberyard is one of the few breweries in Flagstaff that offers a full kitchen. So, I can nosh while I sip a beer. But, if I'm being even more honest, the whole Lumberyard lunchtime "sip and nosh" experience is kind of a pain.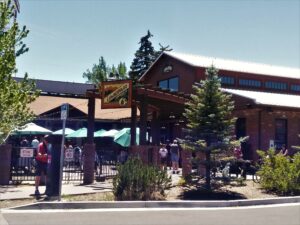 The last two times I was at Lumberyard for lunch, so was the rest of Flagstaff. Admittedly, both visits happened on a summer weekend, but both times, it was noisy, chaotic, and I'm surprised I got a table. The last time I visited, I shared a bar seat with a cash register.  I know the wisdom of crowds is a thing, but it's hard to enjoy myself when I have a table less than the size of a laptop.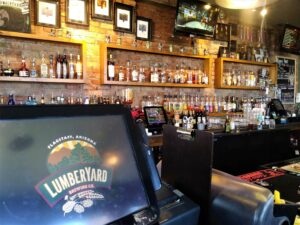 This cash register is poking me in the ribs...

If I'm being brutally honest, I don't even like their beer that much. Their Flagstaff IPA is way too bitter for me and while I love lagers, their Diamond Down Lager just seems to push metallic. I do like the experimentation of their companion brewery Beaver Street, but Lumberyard's core beers just never struck me as being that good. I know they have a long history of medaling at the Great American Beer Festival, but I could never see myself yearning for any of Lumberyard's brews.
Until now.
Lumberyard's latest offering is their Hazy Angel IPA. And if you're only going to drink one beer from Lumberyard, make it Hazy Angel.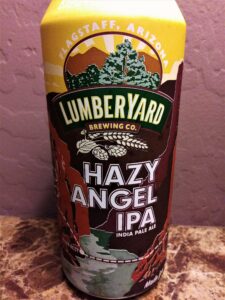 I know, I know—the whole hazy IPA/New England IPA is the beer fad that won't go away. The style was famously vilified by Beer Advocate, but here we are. Craft brewers as big as Sam Adams and Sierra Nevada have made it a year-round style. But Lumberyard's version…now that's something worth fighting the crowds for.
The first time I had Hazy Angel IPA was as a "brown bag beer" at Whining Pig. I was totally surprised that the deliciously juicy beer that was chosen for me was from Lumberyard. I was likewise surprised by the can itself—it is Lumberyard's first offering in a 16 oz. can.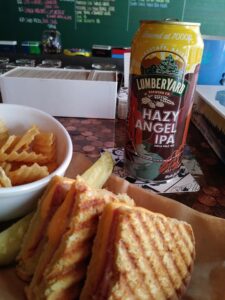 How do I know this is Whining Pig? The grilled cheese...
My second sample of Hazy Angel IPA was during one of the aforementioned visits to Flagstaff—the one with the half seat at the bar. Tasting it on draft I realized they had a hit on their hands.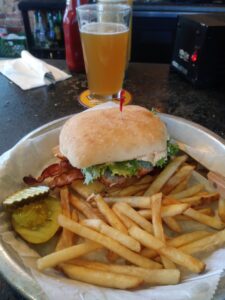 Half seat and a chicken sandwich.
Since then, I've mostly encountered Hazy Angel IPA in cans. When you pour it, it generates a solid one inch of foam which dissipates all too quickly. It has a nice dark gold color. The aromas are a knockout—bright tropical and stonefruit aromas. Mostly, I detect pineapple and perhaps apricot. Lumberyard's uses El Dorado hops so pineapple, mango, and other stonefruits would be expected, but the aromas are strong and lasting. Twenty minutes after the pour into a Willi Becher glass, one still gets good, discernible aromas.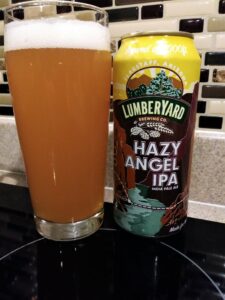 The aromas follow through on the taste, too. It's tropical for sure, but I think the apricot really stands out. This is not a sweet beer by any means. Some hazy IPAs go overboard on the fruit and end up too sweet and cloying or syrupy. Not here. Hazy Angel IPA is a full beer—it has a mild creamy texture too it—but it's not heavy. I sense perhaps a tight effervescence, yet Hazy Angel IPA doesn't seem overly carbonated. There's not a sharp tingle on the tongue. There's just enough to give the beer a lot of body. The hops (El Dorado and Citra) are used more for flavor so this is not overly bitter or dry either.
Hazy Angel IPA also seems to get better the longer you let it sit. I know that's hard at times…to let your beer sit and NOT drink it. But trust me on this one. During a recent tasting, I slowly lingered over it. After more than twenty minutes, the flavor still exploded from the glass. That's no small feat.
It's enough to make me want to fight the crowds in Flagstaff.
Second beer: If you opt for a second beer, try their Humphrey's Hefe. It's a very mild hefeweizen. It has banana, clove, and bubble gum like a hefe should, but also a slight orange/citrus kick.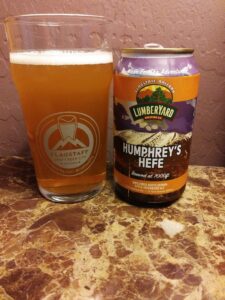 ---
Lumberyard Hazy Angel IPA
ABV: 6.7%
IBU: 75
SRM: 8 - 9 (my estimate)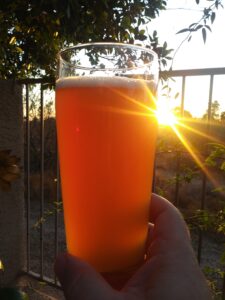 Prost!