Arizona may still be sweltering under triple-digit temperatures here in late August, but in Germany, it's only four weeks away from Oktoberfest! That means every brewery from here to the Rhineland is brewing up Märzens and Festbiers, otherwise known as Oktoberfest beer. There's a long (and official) story about which German breweries are actually allowed to call their beers 'Oktoberfest', but in 'Merica, everybody brews one.
"Oktoberfest" beers are essentially Märzens—a sweet, amber, malt-forward beer with minimal hop aromas or flavors. The BJCP states Märzens should remind drinkers of 'toast' but I tend to think the best ones have mild caramel flavors, or at least toast with a thin layer of honey and finely crushed almonds. Festbiers generally sport similar flavor, but have a lighter, gold/yellow color. In any case, both beer styles are among my all-time favorites.
So, put on your lederhosen and grab an accordion. It's time to rank the best Oktoberfest biers. Here's what you should really be drinking over the next six weeks! [Ratings reflect my most recent rankings on Untappd]
Best of the BEST
Spaten Oktoberfest (4.50)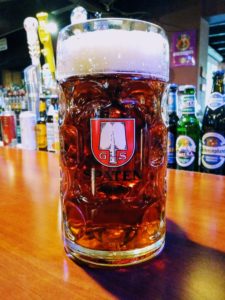 My favorite beer picture of all time
If you are going to drink a beer style that was essentially birthed by the Germans, drink one from a German brewery. Spaten is in Munich, which makes it all the better. Spaten's version hits all the right notes—amazing deep amber color, sweet aroma and malty flavors. My notes from Untappd simply state "crazy good" and "one great beer." If you can get this on draft, don't pass it up.
Paulaner Oktoberfest Wiesn (4.50)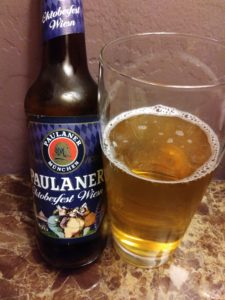 It might be easy to think this is a hefewiesen. After all, it does have "Wiesn" in the name. It's not. It's a Festbier and it is mighty good. ["Wiesn" is German for 'meadow'; "weisse" means 'white'] Drink it in a clear glass so you can take in the gold color. Has just a hair more hoppiness than Weihenstephaner's Festbier (see below) but when it comes to German beers, that ain't saying much.
Weihenstephaner Festbier (4.25)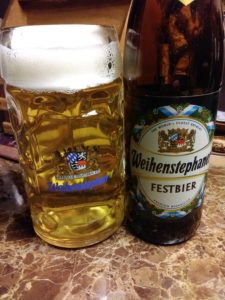 Super clean and easy drinking. Sweet malt that reminds you of wheat dough baking in the oven. The gold color is what all pale beers should aspire to look like. Delicious.
Sam Adams Oktoberfest (4.0)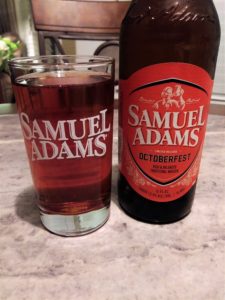 If you are stateside and wanted to try an Oktoberfest beer, but were afraid of German beer, you've probably had Sam Adams. It seems to me that the Boston Beer Company has been slowly, and ever so slightly, tweaking their recipe and making this sweeter and sweeter. I recall not being thrilled when I first discovered this a decade ago. But lately (this year especially), this brew is starting to rival the best German breweries. Super copper/orange color and a nice sweet flavor.
Will do in a PINCH
Warsteiner Oktoberfest (3.75)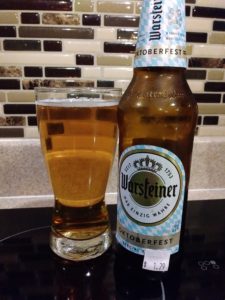 Warsteiner has grown on me over the years. This seemed ho-hum when I first tasted it, but this year it was outstanding. When drinking, both the aromas and flavor project maltiness. Almost no evidence of hops here. It is a little drier than most (from the bottle, less so, but the last one I had from draft was super dry).
Hacker-Pschorr Original Oktoberfest (3.75)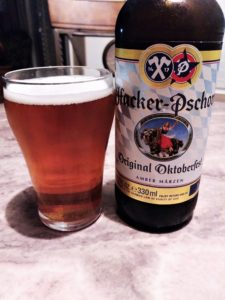 I like Hacker-Pschorr beers in general but this Märzen is seriously only one step away from their Munich Helles. Don't get me wrong—their Helles is outstanding, so this Märzen is very good (leans sweet) but I would hope it would differentiate itself from the Helles style just a bit more.
Ayinger Oktoberfest Märzen (3.50)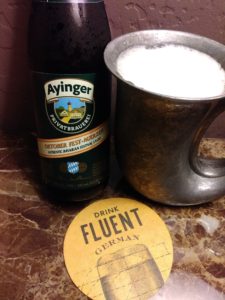 This take on the Oktoberfest style leans slightly hoppy, but there's still plenty of sweetness to go around. Nice copper color and a longer lasting head than most.
Paulaner Oktoberfest Märzen (3.0)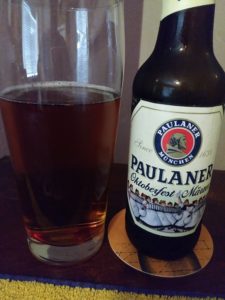 The latest batch I tasted was really heavy on the hops and light on malt sweetness. I don't know if I'm a victim of a bad glass or bad bottle. I might rate this lower but I'm willing to give it a slight benefit of the doubt.
Sierra Nevada/Bitburger Oktoberfest (3.0)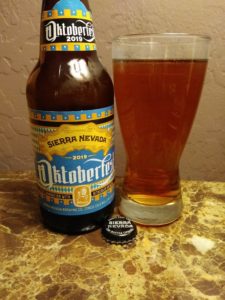 Sierra Nevada collaborates with a different German brewery each year, resulting in a slightly different finished product each Oktoberfest. Last year it was Weihenstephaner. This year, it is Bitburger. Too bad. This year's version seems tame. It hits all the right notes, but just not that hard.
Ones to AVOID
Brooklyn Oktoberfest (2.50)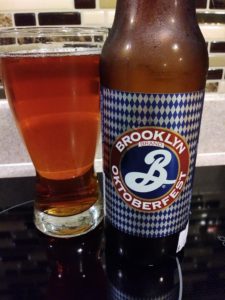 My sense is that Brooklyn's take on Oktoberfest beer is more about the hops than malt. More bitter than sweet.
Ska Oktoberfest (2.5)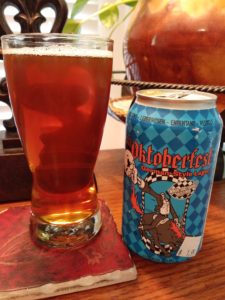 Not really a pleasant experience. It looks like a Märzen, but rather than sweet dough, it comes off like sourdough. In hindsight, I perhaps should have rated this lower.
Shiner Oktoberfest (2.0)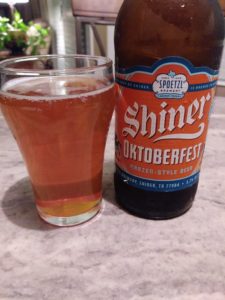 Not a good representation of Oktoberfest/Märzen. The aromas are floral, almost perfume-like and the flavor is more medicinal than malty.
OFF-THE-RAILS
Four Peaks Oktoberfest (1.75)
I saw this in the store just today and thus have not tasted it. BUT…by virtue of the fact that Four Peaks is calling this a Vienna Lager and not a Märzen…is just wrong. Yes, Munich malt and Vienna malt share a common history, but come on. The bottle actually reads "Tasty, Toasty, Prosty." How lame.
UPDATE: 9/14/19
I broke down last week and bought a six-pack of Four Peaks. Ugh. This is just not good. Light on body, light on flavor. The Untappd entry for this calls it a Festbier; the bottle claims it is a Vienna Lager; it should be a Märzen...it's a mess.
Prost!