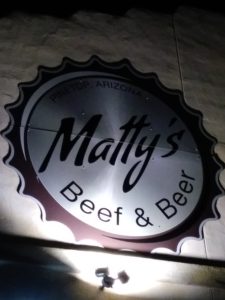 The Arizona White Mountain communities of Show Low and Pinetop/Lakeside are not known as serious destinations for foodies. There are probably a dozen fast food joints for every sit-down restaurant in town. And I can probably count on one hand the number of sit-down restaurants that I've wanted to eat at more than once (Charlie Clark's, Pinetop Brewing, Salt...yep...one hand). The beer scene in the White Mountains is equally tough. Beyond the two local breweries--Pinetop Brewing and Black Horse--there are precious few other options for those wanting serious beer: Moose Henri's and The Den are likely the only other names on a very short list.
Thankfully, Matty's Beef and Beer, which opened in January 2018, provides a solid new option for diners and drinkers in the White Mountains. I had the fortune to pay a visit over the 4th of July week, 2018.
Matty's is located on the eastern end of White Mountain Blvd in Pinetop, almost directly opposite of the aforementioned Charlie Clark's. I believe they took over the space previously occupied by The Barn when they relocated further west down the highway. The space is quite large and can probably accommodate up to three dozen diners inside and perhaps another dozen outside on the generous patio.
I arrived at Matty's about five minutes before closing time. Fortunately, I was informed that while the kitchen does close early, the bar stays open "as long as you want to be here." Matty's features a long wine list and several rotating taps.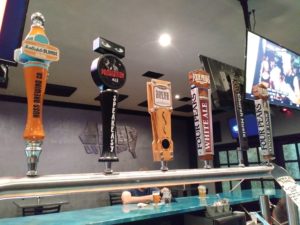 On this visit, they had an "A+ worthy" selection of beers: Speakeasy's Prohibition, Church Music from Shop, as well as options from Huss, Four Peaks, and Borderlands.
Most interesting was their unique bottom-filling tap system. Yep, they fill their beer glasses from the bottom. I was shocked when I saw it in action for the first time. It's called "Bottoms Up." The server placed the beer glass under the tap, but the beer filled the glass through a hole in the bottom.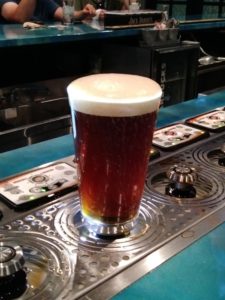 It was like magic and quite the show. The server was more than happy to provide a short demonstration (as well as let me keep the beer from the demonstration!). The hole in the bottom of the glass is covered with a disc magnet containing a Matty's logo or the logo of another advertiser. Collect five magnets and you can redeem them for a free appetizer.
While I arrived extremely close to closing time, I was able to order a plate of smothered fries (a mix of shoestring and steak-cut fries covered in cheese sauce, jalapenos and prime rib shavings--yep, you read that right...prime rib shavings). They were delicious.
Although my visit was short, the adage of "leave them wanting more" is ever so true here. Matty's is a great addition to the White Mountains dining and drinking scene and I can't wait to go back.
Prost!
---
[UPDATE (6/24/19): I did go back, in summer 2019, and Matty's is still going strong. I had a chance to speak directly to Matty (yes, they are named after an actual person!) and he concurs that the food scene in Pinetop was severely lacking for years. After establishing "The House" in Show Low, he created Matty's in Pinetop.
[And there was much rejoicing.]
Food. Always yummy.
Three appetizers: cauliflower wedge, artichokes, broccoli fritters.
Beer, 'natch.