Beer Advocate's Spring 2018 issue is finally out, and the lead story reveals BA's annual compilation of the "Best New Breweries." This year, they expanded the list to 50 breweries, but despite the increase, Arizona breweries are curiously absent. The magazine included seven Canadian breweries this time around, but Arizona was left in the cold.
This is surprising given the incredible number of new breweries popping up all across the state. Certainly, one of our new(er) breweries deserves some notice? Dark Sky, anyone? Oro? Is Borderlands (gasp) too old? Of course, quantity does not mean quality. OK, how about Saddle Mountain in Goodyear, who medaled in the GABF in 2017 and the World Beer cup in 2018? Come on, Beer Advocate. Last year, Helio Basin came out of nowhere to land on BA's coveted list, but in the past few months, Helio Basin has received more recognition for their food than their beer. Helio Basin was a curious choice in 2017, but to overlook Arizona entirely this year is a grand omission.
Even harder to understand is BA's inclusion of Wild Barrel Brewing in San Marcos, California. I admit I have never been to Wild Barrel, but anyone who reads Beer Advocate knows their writers maintain a general disdain for beer 'trendiness.' As hazy IPAs became everyone's favorite punching bag, Beer Advocate seemed to be shoving their way to the front of the line to get first jabs. What's the point? Wild Barrel's co-founder Bill Sysak was asked by BA about their 'keys to success.' His response? "Staying hyper-focused on what is driving the market." Read=trendiness.
Want more proof about the BA double-speak? A second feature story in the Spring 2018 edition is about the rebirth of the English Pub, whose entrepreneurs glory in their small size and decided un-trendy brews.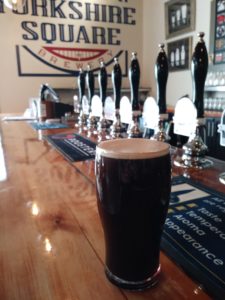 Speaking of English pubs, BA did see fit to recognize Yorkshire Square Brewery whose dedication to cask ales is keeping the tradition alive in southern California. I visited Yorkshire when I was in LA last month and while cask ales aren't for everyone, Yorkshire demonstrates all that is great about craft brewing: the artistry and the passion of the brewer, the history of the drink, the role beer has in building community.
Certainly, one doesn't have to drive to LA (or Canada) to find that.