New year, same rant. Arizona don't get no respect.
Our unbearably hot weather, renegade politics, and laughable sports teams often make the state the (somewhat deserving) butt of many a joke. But lately, I've felt this lack of respect for Arizona has crept into the wider craft beer culture. Outsiders are slow to recognize what's happening here, beer-wise.
Craft beer in Arizona is booming (over 100 breweries and counting). Our brewers are taking home more medals at competitive beer competitions and festivals every year. Yet, the state has yet to make any inroads when it comes to craft beer journalism. I've noticed lately that beer writers barely mention Arizona. I've written before about how Beer Advocate's annual "Best New Breweries" editions have missed the mark in consecutive years. Even our own Arizona Republic can't get its facts straight about Arizona breweries.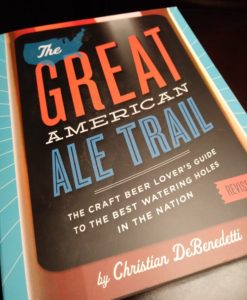 I was reminded of all this rancor recently when I was perusing a copy of Christian DeBenedetti's Great American Ale Trail. The book is essentially a travel guide for beer lovers. It gives you a rundown of the best places across the U.S. to get craft beer. Great concept; no problem with that. It's kind of what this blog site aims to do for Arizona. The original edition of DeBenedetti's book from 2012 was even an award winner. Expectantly, I dug in.
And was immediately disappointed.
Turning to the brewery index at the back (yes, I usually start reading books at the end), I was greeted with this (see the picture). Anyone else see a problem here?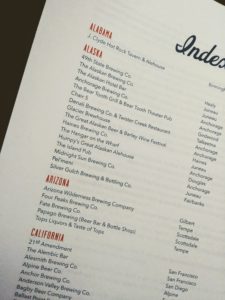 Arizona had five entries: Arizona Wilderness, Four Peaks, Fate, Papago and Tops Liquors.
That's it.
Arizona got the same number of pages of coverage as Delaware—3 pages—despite having 300% more breweries. Even Alaska got 12 pages. Seriously?
Now, I will say I wholeheartedly agree with Arizona Wilderness making the list. What they are doing is great and they way they integrate the very essence of the state into their beers is nothing short of remarkable. Their brewery is a great place to hang out as well. If you can visit only one brewery in Arizona, they are probably where you want to go. BUT, as for the rest of the list…
Four Peaks: I'm one of those people who bemoaned Four Peaks' sale to InBev. I never really liked their beer to begin with, but their acquisition by InBev has the effect of squashing craft beer in other states. As InBev craves more distribution, smaller brewers will lose shelf space and access to consumers. So, while their beer remains the same, the effect of the sale looms large. But that's besides the point. Four Peaks beer is 'meh.' With so much better beer out there, why settle for "big beer"?
Fate: Yes, Fate is now "McFate." I like McFate's beer a lot so I'm not so troubled by their inclusion, and I'm willing to tone my rhetoric down a notch because the change happened post-publication. But, come on…I am reading the "revised and updated" version of the book. This hiccup makes the book seem dated.
Papago: Papago was known for one thing: their awesome Orange Blossom. But the entry seems likewise dated as Papago sold the production of the beer years ago and closed up shop in 2017. Even the shopping center is scheduled to be razed. I'd hate to be an uninformed reader who shows up at Scottsdale Road and McDowell in a few years to be greeted by an apartment complex.
Tops: Tops is the quintessential bottle shop (tons of selection, spilling out to the floor space) that functions like a Quick-e Mart. Its proximity to ASU means it is busy, noisy, dirty and there is often nowhere to park. The concept of the beer bar (Taste of Tops) being next door to a bottle shop (Tops Liquors) is not unique. Other places, like Magnum's, do this better.
Reviewing Arizona's precious few pages in the book, I can't help but feel there is no "trail" here; no ventures up north to Flagstaff or south to Tucson, no exploring the state; there's just a couple of pot-shots around Phoenix. DeBenedetti lovingly spends 36 pages describing the breweries of his home state of Oregon. Arizona gets no such treatment.
I can only hope that future "revised and updated" editions will correct these issues. Any beer travel guide about Arizona that does not include The Shop, Dubina, 8-Bit, Historic, Dark Sky, Mother Road, and Verde Brewing is just incomplete.
Until then, AzBeerTraveler is happy to fill the void.
Prost!