North Mountain Brewing Company, a favorite of this blog, is making quite an impression in 2018's Arizona Beer Week, with the brewery planning multiple exciting events for this year's annual Arizona-focused celebration of all things beer. The brewery's events include a special tapping, a Valentine's Day dinner, a discount on brewery-themed merchandise and free brewery tours. Other Arizona breweries are planning multiple events as well, but North Mountain's line up this year seems particularly engaging.
Tours will be given Monday, February 12 through Thursday, February 15 at 5pm each day. Since this blog is studying for the Certified Cicerone® exam, getting a hands-on look at the brewing process can only help one pass, right?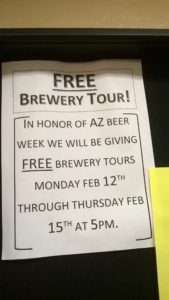 North Mountain is also featuring a special tapping of their "Nativity in Black," a 13.3% Imperial Stout, and a Valentine's Day dinner on the 14th. North Mountain's food menu has always been solid, so I anticipate their Valentine's dinner menu to be just as good. [A peek at the menu shows they plan to offer a chocolate stout cheesecake topped with bacon…wow!]  North Mountain Brewing is especially revered by this blog as it was the first local brewery I encountered as I started to explore beer in the state.
UPDATE: Feb 7: North Mountain has added a few more events. They are offer discounts on select pints from Feb 10 – 15th. And on the 15th, they will hold a special bingo night where the proceeds benefit the Sunnyslope Fire Department.
OHSO Distillery and Brewery has a few intriguing events scheduled for the week. They are bringing back their "Donut Daze" donut and beer pairings on February 8th. They are also featuring their "Yeastie Boys" brewing series on Thursday, February 13th. The "Yeastie Boys" series helps beer drinkers understand the role yeast plays in creating various styles of beer. OHSO starts by creating on batch of Pale Ale wort. Then, they divide the wort among five fermentation tanks and give each tank a different yeast, resulting in five totally different beers. It's a great opportunity to deepen one's understanding of the beer making process.
UPDATE: Feb 7, Part II: As the schedule enters its final draft, a tip of the hat to Casual Pint and their new location on 16th Street. They've put together a mighty full schedule of events. Not bad for their first year of operation.
Arizona Beer Week is presented by the Arizona Craft Brewers Guild every February.