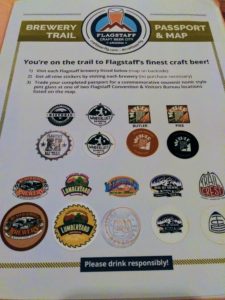 The "Ale Trail" is a feature of many cities that helps visitors get introduced to new breweries and generally find their way around unfamiliar locales. The "trail" is often designed/managed/administered by a local civic group and generally consists of a self-guided map, brewery information and a suggested route for visiting said breweries. Some trails offer formally scheduled events, such as downtown Phoenix's, or are self-guided affairs, like Flagstaff's. The Flagstaff Brewery Trail includes an incentive (as if drinking beer wasn't enough incentive): if you visit all nine breweries and document your visits with a sticker or stamp on a beer "passport" you will receive a souvenir etched nonic pint glass.
Recently, I had the opportunity to travel Flagstaff's Brewery Trail, visiting the city's nine breweries across two days. Here's a quick summary of how I conquered Flagstaff's Brewery Trail:
Day One: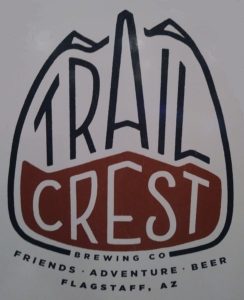 Brewery 1: Trail Crest Brewing. Trail Crest is Flagstaff's newest brewery. So new in fact, they aren't brewing yet. [The brewing operation is still under construction.] While that's a bit of a bummer for beer purists like me, they do offer a full kitchen and plenty of other local beers on tap. They are the southern-most stop on the trail that you encounter as you roll into Flagstaff from I-17 (they are in a small plaza at Milton and University, the first large intersection after I-17 ends). I visited Trail Crest during the lunch hour and they were doing brisk business. During my visit I opted for their French Onion soup, which was tasty, and a Centennial hopped IPA from Lumberyard, which was dynamite. The lunch/happy hour deal here was great as I got both soup and beer for $6 total. After lunch, I was off to the next stop.
[UPDATE (6/24/19): Trail Crest has ceased operations.]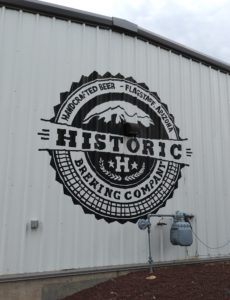 Brewery 2: Historic Brewing. Historic Brewing is located in an industrial warehouse that is the farthest afield from the rest of the ale trail. It is on the Huntington/Industrial Loop between I-40 and Flagstaff's railroad line. Its sparse surroundings make it feel like it is on the edge of town. But, don't let that deter you. Historic's brewery space is one of the coolest, funkiest places in town. The tasting room features a long bar, dominated by the wall art of Historic's defacto mascot—a T-Rex skeleton.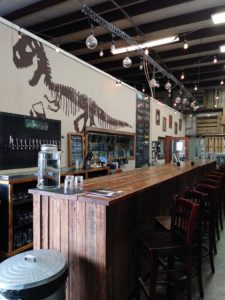 One of the great draws of the taproom is that you get to sample ALL of Historic's beers. Piehole Porter and Undercover Cucumber likely get the most distribution to other parts of the state, with Opposable IPA and Alternative Facts DIPA right behind. That's only a small sample of what they brew. Here, there are upwards of 15 beers to choose from. On this visit, I opted for an "Eternal Sunshine Pale Ale." After one beer (and gathering my passport stamp), I was on to the brewery #3.
Brewery 3: Wanderlust Brewing Co.
Next stop was Wanderlust Brewing, which takes you west, back toward the middle of town. Wanderlust is a considerably smaller brewery (compared to Historic), in a what looks like an office strip mall. The taproom featured a small bar (seating for five) and a bevy of tables inside and out. While the operation seemed smallish, the beer I sampled packed a LOT of flavor.
Wanderlust brews four core beers and on my visit, I opted for the "Petite Finale," a Belgian-session ale, which was bright and clean. As the conversation with the server and other patrons unfolded (I visited right at opening, around 4p/happy hour and within 30 minutes, the place was packed) I learned that their "928 Local Ale" was the beer that "put Wanderlust on the map." So, I tried a 4 oz sampler.
I'm glad I did because that was one of the best beers I had on the trail. It was as if a farmhouse/session ale married a Belgian Quad. Nice gold color with deep sweet flavor.
At this point, I decided to check into my hotel and turn things over to Uber for the rest of the night.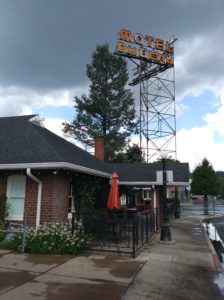 I stayed at the Motel DuBeau, which happens to be within walking distance of most of the remaining breweries on the trail. A quick check-in and call to Uber and I was on my way to…
Brewery 4: Mother Road, Butler. Mother Road is home to perhaps one of the most popular local IPAs in the state—Tower Station. Mother Road has two locations in Flagstaff: the smaller "Mike's Pike" location which is about two miles west, and this locale, known as "Butler." Mother Road's Butler location seems to be the newer of the two and appears to house a majority of their brewing operation. Walking into the Butler taproom, one is immediately greeted with a whiff of malted barley. During my visit, a brewer was cleaning one of the massive brew kettles, which sits within arms reach of the generous 15-seat bar.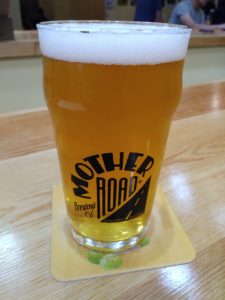 On this visit, I ironically did NOT order a Tower Station, but opted for their "Daily Driver Low Octane IPA" (which is much lighter than Tower Station—go figure) and "Lost Highway," their Black IPA. At 100 IBU, I've heard it takes some guts to drink Lost Highway. But here, with the beer being so fresh, it went down easy.
Mother Road's Butler location is the last brewery (besides Historic and Wanderlust) on Flagstaff's Ale Trail that is not quite accessible on foot. Well, it IS accessible on foot, but it is perhaps 1.5 miles east of Beaver Street Brewing and Lumberyard, other key breweries on the trail—a bit too far to walk. So another quick ride landed me at Historic's Barrel + Bottle House on San Francisco Street, about two blocks from my hotel and right in the middle of the ale trail. Barrel + Bottle is not an official Ale Trail location, but with the night waning and limited food options at the breweries themselves, I opted to eat dinner at Barrel + Bottle and sample a few more Historic beers I didn't get to taste at the taproom.
Having made it through (almost) one half of the ale trail, I was feeling adventurous, so I ordered Historic's falafel burger (quite good). They suggested I pair it with their Undercover Cucumber. Now, I can not think of any scenario where I'd drink a cucumber infused beer other than pairing it with a falafel burger so I dove in and gave it a try.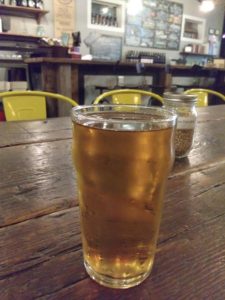 Paired with the burger, the cucumber beer had its moments (it's a clean, bright ale that tastes like a vegetable), but without the burger, I likely never would have ordered it. Just not my thing. After finishing my burger, and tabulating my passport stickers, I decided to hop off the trail and gear up for day two.
Stay tuned for Part Two. Prost!